Graham Reid | | <1 min read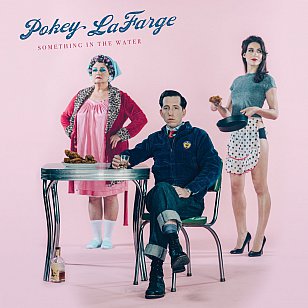 The curious thing about Pokey LaFarge's retro-sounding music which draws on ragtime, old blues and New Orleans jazz is that lyrically he keeps things timeless and universal.
So his songs resonate for a contemporary audience.
He also know where to place a memorably simple chorus and (as on the ballad When Did You Leave Heaven here) how to milk a traditional theme.
He also gets into the obliquely climate change/apocalypse of Underground ("A hurricane is brewing in the east while forest fires break in the west") which, like early Dylan, alludes to things rising up to meet us from "the underground".
Elsewhere he sings the praises of his home state on Cairo Illinois ("Everyone wants to hear a song that helps the day seem happy . . . well I'm tryin' "), gets away a romantic Spanish-styled waltz (Goodbye Barcelona), some Chicago folk blues on Far Away ("Where have all the good girls gone, was there ever one?") and closes with a Nawlins danceband swinger and built-in encore, Knockin' The Dust of the Rust Belt Tonight.
LaFarge may be the well-schooled sum of the influences he loves, but he stamps an enjoyable and personal mark on them.
Elsewhere has a lengthy interview with the very interesting Pokey LaFarge about his life, location and this album here.