Graham Reid | | 2 min read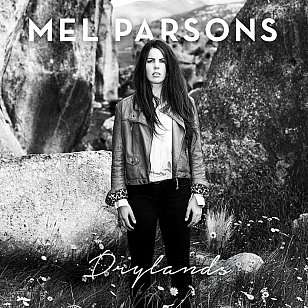 As Elsewhere mentioned in the wrap-up of this year's Womad, New Zealand artists – notably women singers – were among the highpoints. And one in particular was Mel Parsons who exuded a mature confidence, showcased some of the excellent songs from this new album and with a small band kept the attention of a large audience which could have easily drifted away to see some international act.
Keeping the crowd was a measure of the power and intimacy of her performance as much as how her songwriting grips for its intensely personal touch.
And that time on road through North America – which prompted many of the songs here. So much so that the images of travel and departure, memory and place make this almost a themed collection – has given a broader palette of music and life experiences to draw on.
Interesting too is that here on the almost ethereally folk sound of Don't Wait she is supported by the gifted Canadian songwriter Ron Sexsmith who probably doesn't get alongside other musicians that often.
And among the musicians here are Anika Moa on backing vocals, former Waterboys bassist Trevor Hutchinson and co-producer Gerry Paul on banjo and keening lap steel.
She hooks you in with the catchy but melancholy Far Away but second up is the terrific Alberta Sun which – with high trumpet and a slightly weary tone she reflects on a dreamlife she chooses to leave for moving on – sounds as classy as anything out the US country or alt.country movements.
There are mood pieces here – the slightly eerie My Driving Man, the emotionally naked Friend -- and sometimes a sense of the cost of all this traveling life as on Non Communicado where Parsons sounds worn down by the effort of trying to sustain a relationship.
But such songs are leavened by the buoyant folk-pop of Far North Coast (coloured by discreet piano and Hammond from Ed Zuccollo), and the haunting Get Out Alive based on an actual incident ("I crashed my car on the way home, I was't even on the phone . . .there is glass among my teeth").
And then there is the spare folk of Down So Long in which the singer hits rock bottom in a relationship ("can you rattle some old toys, see if it'll spark my memory") which is offset by the counterpoint of gentle optimism in Fireworks ("side by side, day by day").
If the closer Another City has an almost apologetic tone initially in its lyrics ("another town . . . all these songs about life on the road") Mel Parsons has no need to feel as much, and she makes clear this is where she belongs: "The road, the road, the road, I love to be on the road".
Drylands -- Parsons' third album -- is as confident, mature and consistent an album on the cusp of folk, folk-rock and country as anyone has a right to hear.
Catch her somewhere near you in the next month or so. She's still on the road.
For more on Mel Parsons at Elsewhere see here.
MEL PARSONS – DRYLANDS NEW ZEALAND TOUR
with special guest, Dutch folk singer Christof
AUCKLAND – 15th April – TUNING FORK

WELLINGTON – 16th April – SAN FRAN

CHRISTCHURCH – 17th April – SUMNER SCHOOL HALL

SPRINGFIELD – 18th April – TOWN HALL

HORORATA – 22nd April – TOWN HALL

OAMARU – 23rd April – LOAN & MERC

DUNEDIN – 24th April – CORONATION HALL

INVERCARGILL – 25th April – CHEEKY LLAMA

WANAKA – 26th April – FESTIVAL OF COLOUR

HOKITIKA – 29th April – FIRE HOUSE

WESTPORT – 30th April – NBS THEATRE

NELSON – 1st May – THE BOATHOUSE

TAKAKA – 2nd May – MUSSEL INN

BLENHIEM – 3rd May – ALLAN SCOTT WINERY

PALMERSTON NRTH – 6th May – THE GLOBE THEATRE

MASTERTON – 7th May – KING ST LIVE

HASTINGS – 8th May – PLAYHOUSE THEATRE

TAURANGA – 9th May – MAUAO ARTS CENTRE

ONEWHERO – 10th May – OSPA THEATRE

HAMILTON – 13th May – NAVARA LOUNGE

RAGLAN – 14th May – OLD SCHOOL ARTS CENTRE

NEW PLYMOUTH – 15th May – 4th WALL THEATRE

PAEKAKARIKI – 16th May – ST PETER'S HALL