Graham Reid | | <1 min read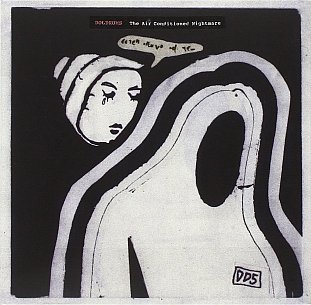 On this second album under the band moniker Doldrums, the Montreal-based experimental electronica-rock artist and DJ Airick (actually "Eric") Woodhead delivers an enjoyably noisy and unpredictable clatter which happily slides from dancefloor thumpers (Hotfoot) to dreamy astral-plane sonics (the prog-lite Funeral for Lightning) and a few pop-influenced points in between.
Woodhead's vocals are unusual. At the times he might be Debbie Harry at her most dispassionately cool or some early 80s UK near-Goth synth band, but he also doesn't have much range so that pulls this back a notch.
What lifts it up again are the witty little lyrical touches and musical references throughout (no spoiler alert, find them for yourself) and some truly lovely pieces (notably the romantic We Wake with vocals by Jane Penny, and the airy Video Hostage).
Over the economic 42 minutes, this won't have you hailing him as undiscovered genius (there are a couple of duffers among the 10 tracks) but – having opened for Unknown Mortal Orchestra and Grimes and done remixes for Portishead among others – he's convincing enough to make you stand in the sweltering sun at a Laneway to see.
And, on retro-electropop pieces like the endearingly simple Loops, certainly nod along to.