Graham Reid | | <1 min read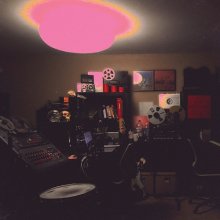 Ruban Nielson's gift for a melodic twist coupled with lyrics which say something hasn't deserted him.
If anything it has deepened and become more soulful and nuanced on this collection which refers to Prince-style soul with a disco bass line (the opener I Can't Keep Checking My Phone), deep funk (the brittle danceable pop of Like Acid Rain), the grandeur of contemporary soundtracks married to an obliquely socio-political lyric (Extreme Wealth and Casual Cruelty) and dreamy falsetto pop (the title track).
There's also broody balladry (the Bacharach-style horn embellishments on Necessary Evil, a standout with its slightly disturbing organ and abrasive guitar part) and much more.
What keeps this diversity coherent is the funky bottom end, Nielson's effortless vocal delivery which often sounds intimate (or annoyed) and the pop economy of these nine, discrete songs.
The notable exception to the brevity is the seven minute Puzzles which pushes the listener into interesting areas from its acoustic framing to schizophrenic funk-rock and increasingly angry tone, then back.
The spirit of classic Prince and Seventies jazz-funk haunts much of this music (no bad thing) but Nielson/UMO twist them into something their own, a kind of musically literate white-boy pop-rock with its feet on the dancefloor and stars in its slightly jaded eyes.