Graham Reid | | <1 min read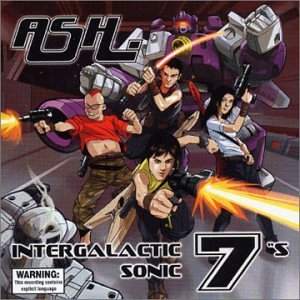 The power pop single was in safe hands with Northern Ireland's Ash, a young and feisty trio - and latterly quartet - who brought brittle, angry energy to the three-and-a-half minute, chart-aimed song. But singer-writer Tim Wheeler had a post-grunge sensibility, pop smarts to burn, and could astutely meld his influences (punk, Nirvana, bubblegum-on-speed, the Vapours' new-wave pop of Turning Japanese) into something distinctive.
This solid, non-chronological 19-track collection - plus bonus disc of 22 B-sides - wraps up their career from the feet-finding early singles (the precociously orchestrated Oh Yeah a highlight on the 1977 album), into their career-defining moments (Girl From Mars, Goldfinger, Jack Names the Planets, Kung Fu) and their recent mature work (Burn Baby Burn, the adult pre-occupation of this year's Sometimes, the swooning string-embellished ballad There's A Star).
Wheeler grew up in public but has been one of the most consistent pop songwriters of the past decade - and the bonus disc shows the high calibre of songs he was prepared to relegate to prove it. Recommended.