Graham Reid | | <1 min read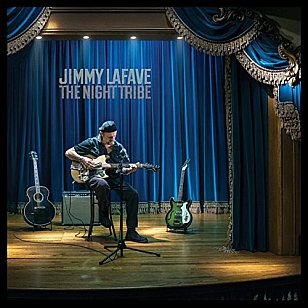 Americana singer-songwriter Jimmy LaFave has one of those classic, heartbroken, world-beaten, minor key and slightly weary voices which holds considerable appeal.
Except he deploys it on just about every song, so you can experience a kind of emotional burn-out . . . all the while appreciating just how moving he can be. Slow and selective listening is therefore advised.
He's appeared at Elsewhere a couple of times previously and been recommended because on each album he has steadily broadened his musical palette, the songs sounding more fully rounded and he can call on some stellar friends from around Austin.
This time with a full band, almost a dozen excellent originals, as always a Dylan cover (a chiming country-folk-rock Queen Jane Approximately) and the well-chosen Neil Young's Journey Through the Past, he impresses again.
Essentially for all the same reasons that he always has.
Lachrymose fiddle, heartaching organ, a small string section (viola and cello alongside violin), gently twanging country guitar . . .
And that distinctive voice everywhere singing of the many and various states of a wounded heart.
This, as do most of his albums, peters out just a little in places . . . but we can only repeat what we said once previously: If you haven't heard him, you deserve to.
Needless to say, when he sings a song entitled Smile, it isn't . . . well, let's just say he doesn't do chipper.