Graham Reid | | <1 min read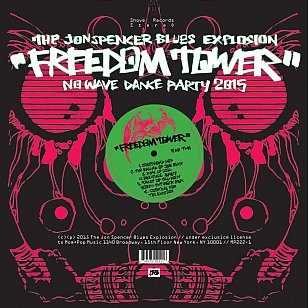 About halfway through these breathless 35 minutes you'd be forgiven for needing a cup of tea and a lie-down.
And you've also forgotten how this implosion of Beastie Boys, RL Burnside-style electric blues, Aerosmith with Run DMC and much more actually started.
In a cover like a mixtape and subtitled "No Wave Dance Party 2015", here the Spencer trio fire off 13 raucous salvos which reference a kaleidoscope of New York music from the avant-garde No Wave noise out of Downtown in the early 80s to rowdy block parties high on the excitement of hip-hop.
Some of this is tongue-in-cheek (New York described as "the home of the blues" and "so pretty"), but for every funk-rock Do the Get Down, there's a Ramones-inspired Betty Vs the NYPD (which owes a debt to Rufus Thomas) and the brooding Jaggeresque Down And Out.
Needless to say The Ballad of Joe Buck isn't a ballad or about Midnight Cowboy, other than the grit of that classic movie the song's title reference.
Can't wait to see this live later in the month.
As Spencer yelps at one point, "Heeere we go now . . ." Hold on tight.
This is an interview with Jon Spencer at Elsewhere here.