Graham Reid | | 1 min read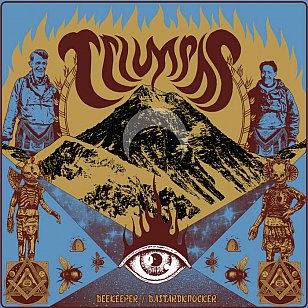 This Dunedin duo of John Bollen and Mat Anderson (guitars and drums respectively) here aim for a big subject, an instrumental concept album which "pays tribute to New Zealand's forgotten history of psychedelic mountaineering".
That's not a territory many will have previously encountered, however here it is in all its widescreen drama and gritty grandeur across tracks with titles like Everest Was The First Pyramid, Like A Storm Rolling In and Blue Degrees.
If there's not a discernible tradition of psychedelic mountaineering in New Zealand there certainly is of atmospheric and riff-driven mostly-instrumental music (HDU, Jakob, An Emerald City, Beastwars, Sunken Seas etc) and Triumphs -- here recorded by Dale Cotton -- tap right into it.
Perhaps once too often they revert to riffing rather than expanding their palette (Holographic Peak and Solid Bones), but when this gets moodily atmospheric and portentous (the magnificent Beekeeper with a sonic storm sweeping across the Hillary Step) you really feel the need to grab your ice-axe and hang on for dear life.
Like a Storm Rolling In seduces with some pleasant guitar figures (we are still in the warm foothills) before there is an almost palpable but steady tightening of the fists and then there's thunder on the mountain and a hailstorm of distortion. Before the dynamics lighten again . . . but just for a little while. Terrific.
They even manage a bit of rock economy on Blue Degrees which clocks in well short of four minutes and comes off like the opening credits to a biker flick.
At the other end of their Richter Scale is the thrilling Bastardknocker which is a seven and half minute epic of density and white-knuckle intensity.
This is an impressively heavy debut, and Triumphs have certainly placed their flag on top of a particular peak. Not the highest they'll climb I am guessing.
This comes only as a limited edition vinyl album (with free download code): see here