Graham Reid | | <1 min read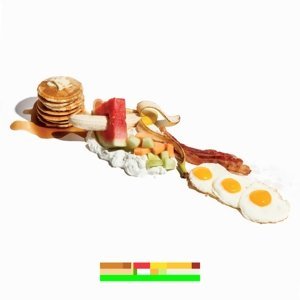 Once you come to terms with the taut but sometimes meandering and shapeshifting six-plus minutes of the opener The Yabba here, the intent of this incarnation from New York's electronica experimentalists Battles becomes more clear.
On this, their third album, they have dispensed with guest vocalists as on their previous Gloss (2011) and so hone their sound down to cosmically-inclined electronica with astute nods to minimalism (Summer Simmer before it heads into other territory, Non-Violence similarly), the ambition of prog (Megatouch), very discreet allusions to world music and even economic dance floor (the electro-blips of Dot Net).
Some of this is clever rockism without the guitars (the white funk of FF Bada), in other places it creates a self-contained world of its own (the cinematic monstering of Tricentennial). Some might even detect the influence of Robert Fripp's more experimental work outside the King Crimson orbit.
Or maybe not, because this is music wide open to interpretation.
It is also music you can enjoyable dissect to isolate influences and references, but still has that distinctive Battles functionality (you can do the dishes to it) which has endeared them to big corporates looking for hook-laden sounds for their ads.