Graham Reid | | 1 min read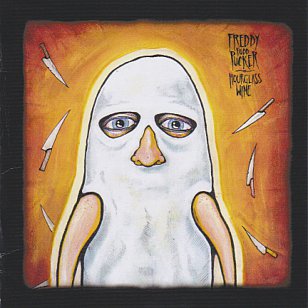 When Tom Young from Dunedin emerged as Freddy Fudd Pucker many, many years ago he'd chosen a name which seemed determined to condemn him to the margins. FFP either sounds rude, like he's a comedy act or, for any curious American, something to do with a hamburger chain.
That he was none of these (although his humour could be acerbic) just made it more of a shame that he got little serious traction in his homeland.
He's been based in Berlin for the past couple of years and touring extensively, delivering his fast'n'furious, literate and often angry multi-tracked rock to audiences across Europe. I believe he's somewhere in the US right about now, playing with guitar, loops and percussion attached to his feet.
This 10-song album comes wrapped in a booklet of his lyrics and artwork which makes for an impressive package.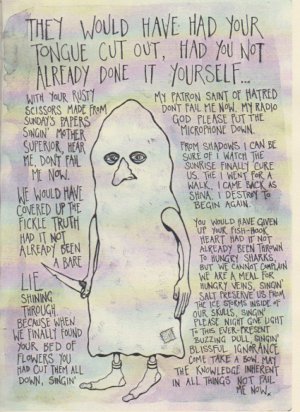 Musically he mostly delivers economic, taut and angry songs which however keep a pop structure close to hand (verses, choruses), but he leavens the mood with dark acoustic folk (check Black Honey which provides a necessary breathing space at the midpoint, despite its bleak content with a spoken word section in the final minute).
So on something like the catchy, country-flavoured Bad Actors (Johnny Cash influenced by Nick Cave's recommended reading list) you find yourself singing along to, "You say your hope is undying, I say your hope is a liar . . ." and "this job is a corpse wrapped in plastic and I sucked dick just to get it . . . bad actors and their secondhand sadness, I'll be happy when they're gone".
FFPucker's gift is that he can make lyrics about death, misery, misanthropy and the everyday horrors of ordinary life in the 21st century sound so chipper when he wraps them up in these snappy tunes.
When he dials down the energy a little, as on the excellent The Sorrow Finds Its Song ("open up the valves and let it all out because we don't have a lot of time") he can pull you in with his weather-beaten voice and lyrics which are pleasingly unpredictable. He takes you to interesting and unexpected places.
Those more intimate songs occupy the same sonic space here as the distortion rock of A Gathering Madness and the flat-tack acoustic energy (think the sound of Violent Femmes tightened in a vice). So this manages musical diversity which will get you through the somewhat bleak worldview. (Everyone sing: "Single file, straight ahead into the longest night . . . we sit suckin' on secondhand sadness").
Don't judge this guy by the name he has chosen, there's depth to this emotional pit, and some very memorable songs.
For more on Freddy Fudd Pucker and Monkey Records go here.