Graham Reid | | <1 min read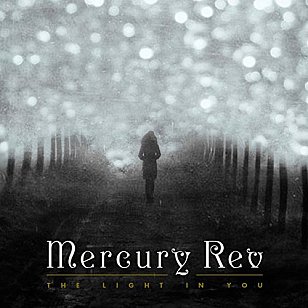 With their breakout album
Deserter's Songs
(98) and its follow-up
All I Dream
(01), New York's Mercury Rev were the gold standard for an elegantly psychedelic alt.rock band, and their association with Flaming Lips (Rev's multi-instrumentalist Dave Fridmann has been a longtime Lips producer) enhanced their allure and status.
Then there were diminishing returns and fewer releases, and this — their first in seven years -- is a reduced Rev with Fridmann busy elsewhere.
Much of their summershine, airy psyche-rock is still evident and mainman Jonathan Donahue's slightly surreal lyrics and floating vocals conjure up gravity-free states of mind.
But where they once had some bite, this is more consistently cloud-blown glisten than grit.
That said, eerily dreamy songs like the disembodied angst of Central Park East, the orchestrated pastoralism of Autumn's in the Air, the Lips-like Are You Ready? and the delicate Moth Light are bound to have wide appeal.
Their sole rocker Sunflower and the poppy Rainy Day Record sound at odds with everything else however.
Not quite the return to form you'd hope for, but an undeniably pleasant soundtrack as the weather warms.