Graham Reid | | 2 min read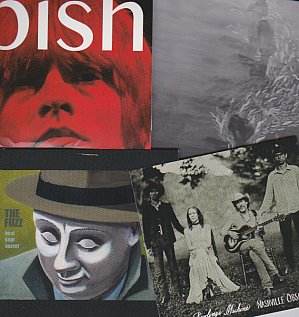 With so many CDs commanding and demanding attention Elsewhere will run this occasional column which scoops up releases by international artists, in much the same way as our SHORT CUTS column picks up New Zealand artists.
Comments will be brief.
The Brian Jonestown Massacre; Mini Album Thingy Wingy (Southbound): Aside from the interesting but hardly essential Musique de Film Imagine, most of the BJM recent albums have been enticing for their deft walk between tripped-out psychedelics, shimmering shoe gaze and elements of North African/Middle Eastern melodies, the latter perhaps a result of mainman Anton Newcombe now living in Berlin. Although this downplays itself by being billed as a "mini album" with seven songs over 34 minutes (longer than EPs and close enough to a full length album) this comes as a fully-realised statement. The opener Pish (which gets its name plastered across the cover) is a terrific dreamscape and it's followed by an exotically melodic but drone-manta Prsi Prsi in Slovakian, with horns. Elsewhere BJM deliver a VU-influenced slice of pop (Get Some), take on Thirteen Floor Elevators' Dust (in their own way) and more of that shimmering psychedelic guitar holding together its sonic cinerama. A very tasty promise of things to come on their New Zealand tour (see dates here at this "interview" with Anton Newcombe).
The Dave Rawlings Machine; Nashville Obsolete (Acony/Southbound): The Machine is the vehicle for songwriter guitarist Rawlings and his longtime musical partner Gillian Welch who were in the vanguard of an intellectual Americana more than a decade ago. The title here may be wishful thinking about mainstream Nashville but the city has called them for this collection of often lengthy and frequently slow, poetic songs. But if they want to invert cliches plenty of people might find it odd to hear "don't go lovin' short haired women, they're gonna leave cryin' after thinkin' it was all in fun" or somewhat lame lines like "I've got to find my runaway horse, she was the best friend a man ever had, now I'm goin' down the road feelin' bad" Horses, Southern belles, the road, the pilgrim and such populate these songs. That said, there are standouts like the 10-minute The Trip which is exactly that, a real journey you are pulled into where perspectives and timeframes shift. Beautiful harmonies and musicianship abound, but despite being a very long time coming this collection isn't without its lyrical weaknesses.
Candy, by the Dave Rawlings Machine
Briana Marela; All Around Us (Jagjaguwar): The words "ethereal" and "childlike" were probably coined for this American singer who recorded this in Rekjavik with Sigur Ros producer Alex Somers, so right there you have the sonic reference point for "ethereal". The "childlike" elements comes in courtesy of her light, girlish vocals which are determinedly shorn of any sense of adulthood, and her lyrics which are often not too far from the kind of empty but self-important stuff spouted by relationship advisors or emotional wellness workers. Perhaps the Teflon effect is deliberate but to these ears this comes off as more sleeve-sucking by an adult, who is currently living in Seattle "quietly composing and seeking inspiration". I hope it hits her like a thunderbolt.
The Fuzz; Best Kept Secret (Green Monkey): More from Seattle's productive Green Monkey label, but where many of the label's releases have been eccentric, poetic, sometimes lo-fi gems the Fuzz unfortunately come off as about as original as their name. A rocking four-piece of no particular distinction, they sound little different to any mature (that is beyond early 20s) and mainstream Saturday-night, blues-edged pub-rock or club band in any decent sized city.
Charley Horse by the Fuzz
.
.