Graham Reid | | 2 min read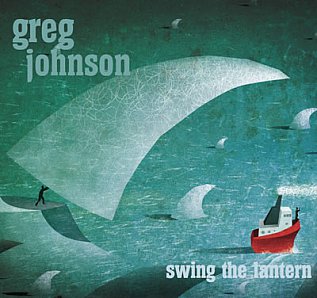 When it comes to metaphors, similes, cultural references and astutely hard-crafted images or couplets, as a lyric writer Greg Johnson would seem to have the inside running and be well ahead of the field.
That he has in recent years most often hitched these essentials of wordcraft to memorable – sometimes downbeat – melodies has pushed him into the frontline of New Zealand songwriters.
Of course, he's been in LA so long now that there are probably people in New Zealand who can barely remember what an impact he had, whether it be with the jazz-cum-blooze clubland Bluespeak, a series of excellent solo albums let alone as far back as his juvenilia debut album The Watertable (the late Eighties?)
He crossed from nightclub to rock concert, cult artist to radio favourite, tipsy charmer to astute intellect . . . and his Isabelle remains a classic for putting a waltz-time pop song into out collective consciousness, albeit some three decades ago now.
This new album recorded in LA with new and old friends – crowd-funded it seems – is an interesting one for all kinds of reasons. Some of them however, not so good.
First, he remains an informed lyricist and his references are astute and wide: in these songs he effortlessly references the Beatles' Twist and Shout, Jason and the Argonauts, Benny and Jets, Hannibal and his elephants (those last three among others on the terrific No One Makes It Alone), the lights of Shanghai, a tractor beam . . .
Not many songwriters would get away with something called How the Sphinx Lost His Nose, and yet it contains another of his rousing couplets: "You can't love another 'til you love yourself . . ." which however does rather echo "first you save yourself, then you save the world" of yore (in Save Yourself).
But too often in his delivery – at least on the first couple of hearings – there seems an emotional torpor, as if these songs were a real effort.
At times that is the perfect mood to touch, as on the weightless, philosophical love song Butterfly At Last.
But on Why Won't Love Give In? which sounds ripe for a rollicking treatment – the bristling backing certainly suggests as much – Johnson comes off as a man who's got the words but not the energy. For good or ill, Jordan Luck would have made pub'n'concert anthem out of this.
In the closer Stone Cold Sober On A Saturday Night from a man whose lifestyle – so long ago now – defined an endless cocktail hour: "I don't like it . . . I see what I'm missing and it just looks dumb, everybody's spilling out the truth to someone, dignity is lost but it really does look like fun . . . I see champagne every time you smile . . ."
It's a great song, but because of the monochromatic delivery right across this album it is another one that gets away.
In many places here Johnson sounds weighed down by torn-up relationships and the anxieties of middle-age ("why does everything end up broken . . . this is the first time I said, 'No, I ain't coming home' " on that penetrating Sphinx song) and most especially on Never Turn Back, one of the finest songs by a man who – by my count – already has at least two best of/hits collections behind him.
Greg Johnson sounds older, still learning, admitting he's not that much wiser but knows there are times to move on.
As he sings from a dark place, "I just turned my head and it was over . . . and my head is full of words and lines, none of them I can bring myself to say . . ." but he finds a greater truth beyond the spotlight.
And yet far too frequently this doesn't reach beyond a vocal weariness which renders many of these songs sounding halfhearted and uncommitted.
Sadly then Swing the Lantern sounds tepid, almost like a contractual obligation album.
Far from his best.
Swing the Lantern is available from here.