Graham Reid | | 2 min read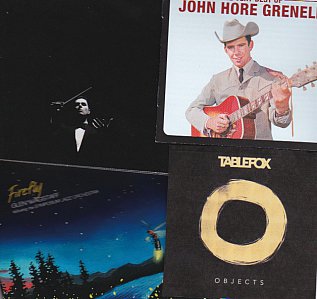 Facing down an avalanche of releases, requests for coverage, the occasional demand that we be interested in their new album (sometimes with that absurd comment "but don't write about it if you don't like it") and so on, Elsewhere will every now and again do a quick sweep like this, in the same way it does IN BRIEF about international releases.
Comments will be brief.
Jonathan Bree; A Little Night Music (Lil' Chief): Formerly of the Brunettes, who in the latter days pushed a little too far towards the twee, Bree's baritone is ideally suited to these originals where he is accompanied by Princess Chelsea (Nikkel) on piano and a string quartet (and briefly soprano Ella Smith as an ethereal voice on Murder) to flesh out his interesting arrangements. These originals about a decaying relationship are slow and stately but never melancholy or even morose, but the wounded romanticism and sometimes bitter edge (the closer There is Sadness), when coupled with a production -- which places him at an emotional and aural distance -- make for a song cycle which is a compelling listen.
John Hore Grenell; Welcome to my World (Sony): This 25 track "very best of" is long overdue because -- outside of his familiar voice on Welcome to my World used in a popular Toyata ad in the Nineties -- he was a bridge between the sound of traditional American country (I've Been Everywhere, Old Shep, El Paso, My Voice Keeps Changing on Me and others included here) and -- if not ever alt.country -- a more contemporary sound (Would You Lay With Me, Behind Closed Doors), notably on his album Silver (1988) . . . although no songs from that appear here. With his classic country voice, a touch of yodel and narrative songs (I Flew Over Our House Last Night, Run Appaloosa Run), he was one of the country's most prolific and important country singers, even though he retired some while back. If you are young enough never to have heard him but see something familiar in the name then yes, he is the father of Amiria, Oakley and Redford.
I Flew Over Our House Last Night
Glen Wagstaff; Firefly (glenwagstaff): With the Symposium Jazz Orchestra, here guitarist Wagstaff from Christchurch offers an interesting, pleasant collection of his original compositions which nod towards international influences in places (Latin, Spanish and Japanese) and leave ample space for soloists, among them flautist Tamara Smith and guest tenor player from Auckland Roger Manins bringing a bit of edgy post-bop on two tracks, Kindred Spirits and Escape Artist, the latter with stabbing guitar flickers and an appealing deconstructed feel. If Wagstaff were to present this as a calling card-cum-job application he'd get the position. Conservative in places but persuasive nevertheless. (My guess is that a couple of tracks are mis-labelled here, that the piece Sakura based on a Japanese folk song has been credited as Within the Walls and vice-versa, but I may be wrong.)
Glen Wagstaff/SJO: The Turn and the River
Tablefox; Objects (Arcadien): This Auckland five-piece are doing a short tour right now on the back of this their debut album and in a press release they say they are proud of it. They should be. It might work through some familiar reference points (a guitar figure from the Clash, melodic post-New Wave pop-rock, a bit of U2 heroics) but they pull it off with style, economy and a handful of smart radio-friendly rock songs. At Elsewhere we are suckers for a chest-baring chorus and big guitar chime, and suspect these guys could get more traction in Australia on Triple J than at home. Check out their Facebook page and find this on soundcloud. They don't reinvent the wheel, but when it goes around with this much pace and accuracy then it didn't need it.
Tablefox, New World