Graham Reid | | 1 min read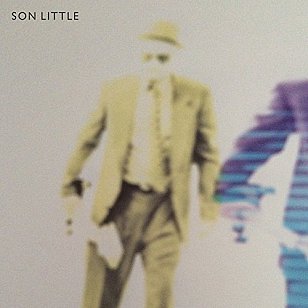 If we believe what we read -- rather than accept the evidence of our ears -- this hip young black American from LA (real name Aaron Livngstone) is the bridge between classic soul and contemporary hip-hop. And more.
Well, let's just come right out and say it.
To be that you'd have to write stronger and more soulful songs than are on this debut album which is both half-baked and over-cooked.
Half-baked because such songs as are here among the 12 are slim offerings which come up short in such trivial matters like choruses and memorability, and over-cooked because in many places they are treated to odd but interesting splatters of brittle electric guitar, primitive electronica and kerthunk percussion.
At time Son Little's references point seem to be Justin Timberlake trying to be Tom Waits while letting in a little Michael Jackson's popping "ooehw" (Your Love Will Blow Me Away), or a minimalist funkster with a collection of old blues who can't quite make up his mind (the harmonica-coloured Carbon, among the better tracks, and Doctor's In with slippery electric piano and Southern funk/Fat Possom undertones).
The ballad Lay Down is pretty, and the excellent O Mother is his connection to Philly soul, albeit it reduced to skeletal elements with an emotional ache ("Is there anybody rooting for the kid?") and with anorexic, psychedelic guitar over what sounds like backward tapes.
So this takes some while to get a bead on, but despite considerable great stuff scattered around (Loser Bues) it is far too uneven and unfocused to be entirely persuasive across all the territory it roams.
Little is certainly a self-believer because in his hagiography-cum-bio he is quoted as saying, "I can hear places in the songs without trying to evoke them while writing. I can trace to where a lot of my music comes from, as my life and family touch so many different places. I can hear Lake Charles, Louisiana in my voice, the way I say some words; I hear New York in my lyrics. Detroit is a place I haven't spent a ton of time in, but if I explore the music of Detroit I can hear myself in there too."
Make what you will of that.
It's an odd observation to make, but he's a major talent emerging . . . although not on the overall evidence of this uneven debut.