Graham Reid | | 1 min read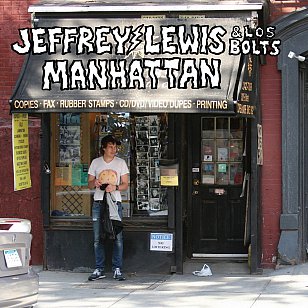 With the sounds of sirens, wheezing cars and ambient noise on the speak-sing opener Scowling Crackhead Ian (about a guy who bullied him when they were younger), New York anti-folksinger-cum-sidewalk poet Lewis drops you straight onto the inner-city streets of his hometown . . . and it's quite some disconcerting journey over the next 10 songs.
Apparently this is his twentieth-something release and he enjoys cult figure status in NYC (and perhaps beyond).
Although he seems to possess the spirit and soul of an outsider melancholic, there are flashes of wry humor here delivered in his lazy baritone and the closer, The Pigeon, is a very funny flip on Edgar Allen Poe's The Raven: It's closer to Stan Freberg-as-Beat poet than anything which precedes it, a pigeon which irritates the Yiddish-spouting Jewish character which Lewis inhabits.
He also manages to include some keenly exotic, almost Hawaiian, guitar on the moody Thunderstorm (which comes with windblown sonic sweeps).
Although recorded in a number of locations (some at a studio in England) and rather quickly, this sounds a highly coherent and focused collection of songs which come with interesting fold-out cartoon art/liner notes (see below) also by Lewis.
This is sometimes wired-up electric folk (the searing, folk-punk of Sad Screaming Old Man in which he fears becoming the character of the title) but he can also deliver a Velvets-meets-Waterloo Sunset reverie on Back to Manhattan where he recounts a walk home from a movie with a girl whom he is going to break up with . . . but hasn't told because "the walk is 40 minutes". It is oddly beautiful.
Lewis peppers in astute and evocative hard-edge images of the dirty streets and its inhabitants but also brings a surreal disembodiment at times (It Only Takes a Moment), as if he is outside it all and philosophically considering the absurdity and pains of life and love, and the city which casts its shadow over it all.
There's a long tradition of this kind of thing out of New York (see here) where there's a mash-up of odd pop, alt-folk, punk-strum . . .
Uneven, but not without interest.