Graham Reid | | 1 min read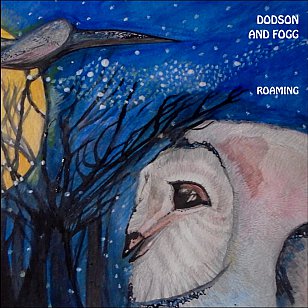 Elsewhere always tries to lend an ear to anything by the very prolific Chris Wade who records as Dodson and Fogg. But he releases such a steady stream of interesting folk-rock from his home in England that it has been rather hard to keep up.
Thank goodness for the Christmas break therefore so we could catch up with this new release where is joined by -- among others -- the actor/singer Nigel Planer (hippie Neil in The Young Ones, more recently playing Matt LeBlanc's lawyer in Episodes) on one songs, and who is also in the trio Rainsmoke with his brother Roger and Wade.
Wade is a multi-multi-instrumentalist (about nine across these 14 songs) and here his voice sounds more resonant and deep than on some previous outings. He also edges towards acoustic power-pop in places (the choppy Book of Rules, the electric fuzz of Rainclouds) but mostly he comes from a tradition of upbeat slightlydelic folk-pop where the reference points might be Donovan and the Beatles in '65 - '66, early John Martyn and acoustic Led Zeppelin.
At times -- as on the embellished childhood reverie of Silver Bay co-written by his partner and cover artist Linzi Napier -- you feel he might be tapping the spirit of Marc Bolan just as he was turning from Tyrannosaurus Rex into T.Rex.
That musical diversity -- and the mystical Roaming Part 2 with samples of voices from what sound like radio plays -- keep the attention right across this typically engaging album of concise songs where he sometimes plays to the most melodic end of what some might call drone-folk.
Another keeper.
To purchase or download this album check Wade's website here, but also look at this page which point the way to his many side projects . . . and this for his children's books, fiction and non-fiction. Busy man.