Graham Reid | | 1 min read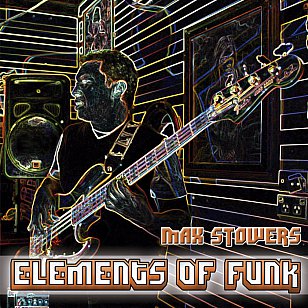 Anyone who doesn't know of New Zealand bass player Max Stowers clearly hasn't been paying attention for the past few decades.
Here is a very short list (taken from a very long one) of the bands he has been in and people he's played with: Te Vaka, Moana and the Tribe, Annie Crummer, King Kapisi, Emma Paki, Strawpeople, Lisa Hunt, Nathan Haines, Mark Williams, Manu Katche, Leo Sayer, Tina Cross, Taisha, Bella Kalolo, Ladi 6, The Yandall Sisters, Billy T James, John Rowles . . . .
I believe he lives in Queensland these days but Stowers had such a high profile here -- and is one the great bass players, anywhere -- that this album high on bass-funk with its roots in the Seventies and Eighties updated, will have many in New Zealand gravitating to it quickly.
He can punch down like twanging Stanley Clarke or make his instrument sing (he does both on Gimme Five here), or hold down the bottom on synth-rock which owes a dollop to melodic George Benson (Maui).
There's also some classy hip-hop influenced soul-funk (City Slicker with rappers Sabath/Buddy Siolo and the Brown Wunda aka Christian Lauofo).
The coordinates for this are between classic Stevie Wonder, mid Seventies jazz fusion (Jan Hammer, Clarke etc on the caffeine-fueled Take It) and the sweeter sounds of Poly-funk (Sunday Morning with vocalist Ben Sekali).
There was a television series set in Miami that could have used a lot of these tracks.
Max Stowers has always been a cornerstone of any band he's been in, and here he is a magnet for new, younger talent.
In many ways this is old school cool . . . but that has the emphasis on "cool".
Elements of Funk is available for streaming or download from here.