Graham Reid | | 1 min read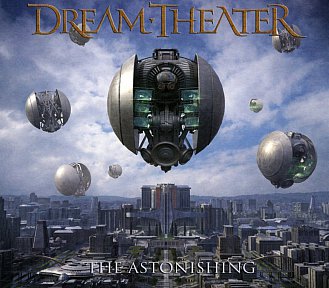 Those celebrating 40 years since the punk game-changer and still believe it wiped away prog-rock haven't been paying attention.
Concept albums, double CDs, orchestration and towering guitars have made a return these past two decades. Case in point, this double CD – two acts more correctly, with an entr'acte instrumental at the middle – by these long-running American prog-metallers (most of whom are tertiary trained music students and Seriously Accomplished Players).
It's their 13th studio album and is a theatrical, rock musical.
Unlike many Seventies album where the storyline involved demons, Tolkien and such nonsense, this is serious 21st century angst located in, you guessed it, a dystopian future where the rebels tap the magical power of music.
("Luke, reach out with your feedback").
With appropriate sound effects (C3PO, marching feet etc) alongside the stentorian and algebraic guitar and piano passages, doom-laden orchestration and choral parts, this sometimes starts with high drama then pushes upwards.
Longtime prog fans ot those wide wide ears will catch a whiff of Floyd, Crimson, Yes, Genesis, Zappa, Opeth, Steve Wilson and many others, but -- despite a storyline which suggests a movie you think you might have seen -- this mostly works within its own sphere. (Although if you've heard this you may laugh out loud at a couple of points, the post track kinda captures it all.)
The saving graces are the nuggety rock songs scattered about and ballads which allow you to catch your breath.
Ambitious, enormous and new-prog rendered in HD/Cinemax? Absolutely, and a genuine headphone epic.
Any good?
Depends on if you are celebrating this year.