Graham Reid | | 2 min read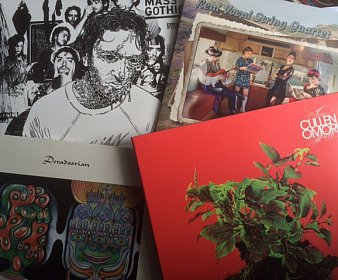 With so many CDs commanding and demanding attention Elsewhere will run this occasional column which scoops up releases by international artists, in much the same way as our SHORT CUTS column picks up New Zealand artists.
Comments will be brief.
Mass Gothic; Mass Gothic (Sub Pop): Largely the solo project (with a few pals) for New Yorker Noel Heroux – formerly of local heroes but little known elsewhere Hooray for Earth -- this immediately appealing 10-song 40-minute collection walks a line between dialed-down power-pop, dreamy indie-rock and classy, slightly ambitious but economic space-pop. Heroux has a classic pop voice and you suspect he has as many Partridge Family and Big Star records on his shelf as he does Kurt Vile and current psyche-rock albums. Gets off a neat soul-pop/handclap song on Every Night You've Got to Save Me too. Never heard of him before but this is tasty, undemanding, easily familiar . . . but also adds some nice twists to the pop templates he explores. Verse-chorus verse-chorus still works. Check the sample here.
Want To, Bad
Deradoorian; The Expanding Flower Plant (Anticon/Southbound): Although known in some circles as the "voice" of early Dirty Projectors, Deradoorian here delivers rather deliberately anonymous vocals due to the layering and her placement somewhere behind the mid-ground. But this music – like Enya's if that isn't too crass a reference for hipsters – is more of an ethereal, slightly otherworldly construct with little allusions to various world music (Indian, Native American at a pinch, Japanese etc) and a smidgen of contemporary classical. But it's all wrapped up in a beautifully produced sonic tapestry which keeps it close enough to trip-hop so as not to lose any cachet she got from DP and her guest spot on Flying Lotus' Siren Song. Very pleasant, the various layers mean it also has some depth (enough to reward repeat plays), she gets away some dissonant pop on Dark Lord . . . and some of this is doubtless coming to your favourite hair salon or a LateNightTales compilation soon. Worth checking out. Sample below.
Komodo
Real Vocal String Quartet; Slacker Ride (FlowerNote): Only at Elsewhere, right? Here on their third album – short, just 28 minutes – this SanFran quartet (vocals, two violins, viola and cello) get you into that backyard, chicken coop, old-time fiddle mood which sometimes sounds like a Suthin-raised, very rural Penguin Cafe Orchestra with bluegrass and Appalachian overtones. Sometimes they are in your front parlour too. The title track is a woozy little wonder and there's a bit of old-time jazz in the mix. The sudden shifts of atmosphere in one piece are reflected in the title which seems ripped from a tabloid headline, Californian Residents Blissful Despite Impending Earthquake. Quirky, sometimes a bit of fun but easily forgettable.
Cindy Rose Waltz
Cullen Omori; New Misery (Sub Pop): The album title and young Omori's sad-sack expression on the back cover make you hope he gets a loving companion soon (although maybe that's the point of this imagery). The opener is No Big Deal, later there are And Yet The World Still Turns, Sour Silk and of course the title track. All of which goes to show you shouldn't judge by a cover because . . . Omori (formerly of the Smith Westerns) writes a similar kind of pop-referenced material as labelmate Noel Heroux (see above) but paints on a wider screen and you'd hope one day he'd work with some feisty Britpop producer (or whoever used to do American bands like the Gin Blossoms and Cherry Twister) because – although this is just fine as it is – once he gets some real oomph behind him this could be thrilling. This may be temporary enjoyment but it's addictive and easily listenable.