Graham Reid | | 1 min read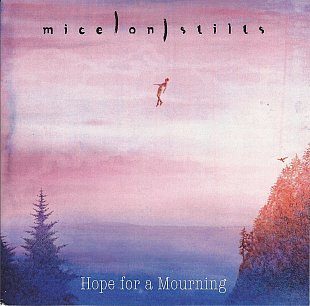 A couple of years ago in a music lecture I made light-hearted comments about prog-rock of the Seventies (maybe I said "pretentious" or "bloated") and after the class a nice young man approached me.
He was into prog and good-natured enough not to have taken umbrage . . . but did suggest I listen to Mice on Stilts, an Auckland ensemble in which he sometimes appeared. He slipped me their EP An Ocean Held Me and I was very impressed. They were far from pretentious or bloated but had shaved off the most intelligent parts of pre-Dark Side Pink Floyd and made something of their own out of it.
Later I had singer/guitarist Ben Morley answer an Elsewhere questionnaire, because he clearly had heart in the right place.
This debut album fulfills that early promise, and then some.
Now a seven-piece "collaboration" with violins, sax and trumpet alongside piano, bass, drum and guitars, they offer a stately take on wide-screen prog with elements of folk (the ballad The Hours), nods towards early and economic King Crimson (Orca) and a gloomy prog-liturgy (the choral arrangement of And We Saw His Needs Through the Casket).
As that latter title and YHWH (Yahweh?) suggest, they also have something to say about life, faith and the great beyond (there is optimism amidst the disappointments?). The 11 minute-plus Funeral shows they can work on a large canvas and still pay attention to detail as it alludes to Middle Eastern melodies as much as European folk, then opens out into constrained but Crimson-like grandeur.
Morley also has a mature voice capable of world weariness and gravitas, and so is capable of delivering these expansive and sometimes melancholy ideas (Monarch).
Some years ago Morley said he'd like to write the soundtrack for a big New Zealand film. If you've got a picture project on the go then listen to this, it's an impressive calling card.
And if you aren't in the film game, then let Mice on Stilts give you images to contemplate.
Recommended.