Graham Reid | | 2 min read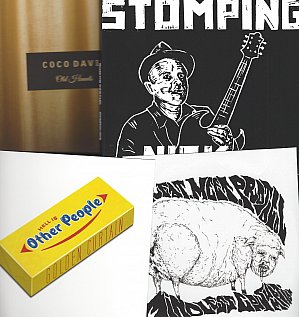 Facing down an avalanche of releases, requests for coverage, the occasional demand that we be interested in their new album (sometimes with that absurd comment "but don't write about it if you don't like it") and so on, Elsewhere will every now and again do a quick sweep like this, in the same way it does IN BRIEF about international releases.
Comments will be brief.
Coco Davis; Old Haunts (Fireplace): Taking on old blues or standards can be a tough game, because often you invite a comparison you can't win. (Why would anyone cover BB King's Thrill is Gone for example.) But singer Coco Davis with guitarist/multi-instrumentalist Tom Rodwell and band (sax, piano etc) neatly dance through the minefield by either taking the old songs from the Thirties and Forties in different directions (notably courtesy of Davis' nightclub/jazz noir delivery), throwing in some light funk shapes or through additional spook elements in the production (by Davis and Rodwell). Devil's Gonna Get You – associated mostly with Bessie Smith – now emerges as something hauled from a swamp at the back of Tom Waits' shed and In My Girlish Days has a slinkiness no one in the Thirties could have imagined. Catch this classy act and these blues reinventions at the Q Theatre in Auckland on Saturday April 16.
'Lectric Chair by Coco Davis
Stomping Nick; Shake Your Cake (bandcamp etc): One-man band Stomping Nick Jackman from Lyttelton takes his lead in the blues from the distorted sound Captain Beefheart, John Lee Hooker (before he became famous) and Chicago wall-shakers like Hounddog Taylor. With a raw and raucous approach, wailing harmonica, churning guitar figures and floor-thumping bottom end, Nick rages through these often incendiary originals – and a fiery These Boots Are Made For Walkin' – which are also smarter and more finely honed than original impressions might suggest. At times he channels the power of Dr Feelgood and the Pretty Things (Bee My Honey) in these songs about whisky, fury, the evils of work and so on. You'd think this one-man band thing wouldn't translate to record but here it does, and flies out of the speakers. Light the fuse and stand well clear.
Lazy Boy by Stomping Nick
Golden Curtain; Hell is Other People (Cosmicolitan, bandcamp etc): They have always been far too self-effacing (this their third album "has the added bonus of not taking long to get through") but Golden Curtain's Andrews (Gladstone and McKenzie) have always pulled out strongly melodic pop-rock (the title track, Like an Island, the Sixties-influenced Penelope Blue), engagingly smart pop ballads (Lucille) and just enough jangle around the edges (like a more ragged Searchers on It's Your Life). There's also a smattering of '65-psychedelic pop on Sleepy Eyes. And yes, at 25 minutes it is short, but that just means a quicker repeat-play. One for the car, for sure.
Sleepy Eyes by Golden Curtain
Threat.Meet.Protocol; Mindless Consumption (Muzai): The indie label Muzai constantly springs surprises and this third album by the punk-meets-drollery T.M.P out of Tauranga (previous albums were apparently 13 Farmcore Favourites and Dud on the Tracks) counts among them. Originally the dup of Scowlin Wolf and The Human Ashtray, they now have keyboard player Luke Turner who adds psyche-freak out colour, and goth-eeriness on Insomnia (which at the one minute mark will have you wide awake). Not having heard their previous albums we might presume them to be fairly thrash'n'burn, but some of this comes off as brittle New Wave (You Are The Virus, the swirling instrumental Moe Tucker's Tavern which is Turner's tour-de-force) and even framed by pop (Who Do You Think You're Fooling). Not as brash and thrash as the flat tack opener Forget Her sets you u to believe. Another Muzai surprise, in fact.
[[mp3: virus]]