Graham Reid | | 1 min read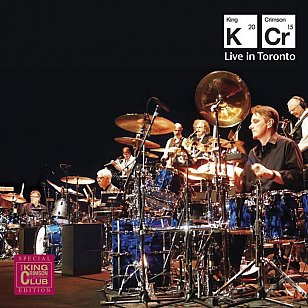 Of course it's a bloody double-live. And it comes with a request at the start for the audience to refrain from recording, photography etc "and we'd like to have a good time and please join in and have a party with King Crimson".
(Why would you just not edit that stage announcement out?)
Recorded on November 20, 2015 (we be specific because KC obsessives know and care about such details, although they've already researched this on line) it almost gets going after that . . . but then before they get into an exciting 10 minute Larks' Tongue in Aspic there is more faffing about which we really don't need to hear.
When this new installment of the Official Collectors' Bootleg release series – and KC have a massive live/box set catalogue which looks utterly ridiculous to outsiders – does get going we can often be in thrilling territory. And they throw in previously unheard material like Meltdown (taut, but not really up to much although elevated by Mel Collins' saxophone)
Mainman Robert Fripp with longtime players Gavin Harrison (drums), Jakko Jakszyk (guitar/vocals), bassist Tony Levin, Collins (sax, flute) and others tear into their sometimes bludgeoning and dynamically difficult canvas of prog, art-rock and ear-bending rock'n'roll (with free jazz infusions).
There can be an almost algebraic complexity to this music (the extraordinary Red which exists somewhere between Black Sabbath and avant-garde downtown NYC jazz-rock).
Fripp – like Frank Zappa – is a man who has never been in any doubt about his own genius and intellectual superiority . . . . but on the exceptionally loud and complex evidence here you would be reluctant to dispute it.
Absolutely not for the casual listener, the faint of heart or graybeards who loved getting stoned to In the Court to the Crimson King almost half a decade ago and have heard nothing thereafter. Although that and 21st Century Man Schizoid Man – played for the first time in decades – close the second disc.
Elsewhere has always held King Crimson at a suspicious, arms-length (too much, too pretentious, too self-important). And in places here we cleave to that (never liked Jakszyk's vocals or the pretentious lyrics) but – setting all that aside – musically this is really something and quite a trip.
And their classics at the end are given a fine treatment, although again Jakszyk comes up well short. And there's a drum solo for which you had to be there. (Unless you are drummer . . . and if you are then be excited, there are three of your percussion-peers at some points here!)
So . . . if you only buy one double-live King Crimson set this month . . .
Ho ho ho.
Elsewhere has quite a lot about King Crimson (not all of it favourable) including an archive interview with Robert Fripp and much more, start here.