Graham Reid | | 1 min read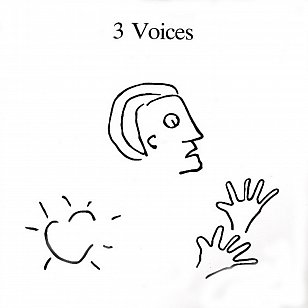 The early Eighties were a remarkable time for innovative, daring and genuinely avant-garde music in New Zealand.
In short succession there were albums by Avant Garage and Big Sideways (on the short-lived Unsung label) as well as spin-off projects such as Don McGlashan and Ivan Zagni's Standards (on Propellor), Low Profile (Festival), Zagni with Steve Garden on A Selection of Trouble Spots (Ode), a slew of releases from Braille Records in Wellington . . .
Regrettably none of these (to this writer's knowledge) have been reissued on CD so it's almost as if this cross-fertilisation of musicians from rock, jazz and classical backgrounds never happened.
Which makes the reappearance of this album -- mastered from the original 24 track tapes, the running order altered -- very welcome indeed.
3 Voices formed around singer/guitarist/bassist Rob Sinclair and saxophonist David Bowater (both formerly of the short-lived by very impressive Schtung) and included Steve Garden (drums), tenor saxophonist Paul Nairn, bassist/singer John Berkley, singer Jacqui Brooks, trumper Scott Calhoun and others. The album was co-produced by Sinclair and Bowater with Lee Connelly (the latter also engineering it).
At the time the album (also on Unsung) came with no other information (just titles, players and recorded at Harlequin in Auckland) but the reissue informs us these 11 pieces were recorded over eight midnight-to-dawn sessions and much of the material came from Sinclair and Bowater's band Ray A (formed after Schtung).
Two pieces, the atmospheric instrumental title track and the equally evocative, free-sounding Thunder on the Mountain were studio constructions.
What was exciting about the music from this period -- this wide spectrum collection included, it roams from quirky jazz-pop to left-field rock, off-kilter funk and sometimes has oddball spoken word lyrics -- is that the musicians were doing it for themselves.
Radio wasn't playing much New Zealand music at the time so there was no point in even trying to accommodate programmers.
Out of that freedom from commercial imperatives came music which was loose and liberated, and often a whle lot of fun for them to make and listeners to enjoy.
There are moments here (No Story) where the jerky-quirky influence of David Byrne (Talking Heads) can be discerned, but elsewhere there are nods to shooby-doo Fifties rock'n'roll (the sonic mash-up of Plastic Toys which perhaps betrays an awareness of Pere Ubu), faux-mariachi styles (Delighted Tonight) and disconcerting soundtracks (The Bells with "world war three knocking on your back door . . . where you gonna hide")
You Were There and My Own One might have almost seduced an open-eared radio programmer for post-10pm airplay.
Of course this sounds self-indulgent but that was exactly the point, in the absence of airplay or even an identifiable audience why would you not be?
But it's also a lot of strange fun . . . and it happened.
Pleasingly, a footnote says "this is the first of many albums to be released on ohorecordings Let's hope some reissues from this fertile period may be on their books for the future too.