Graham Reid | | 1 min read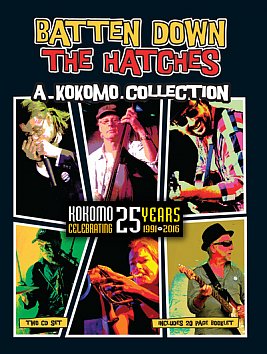 Those who don't "get it" or take any time with the blues tend to dismiss it as all sounding the same.
Certainly there can be superficial similarities, but it is an idiom with an infinitie capacity for reinvention. Every old black bluesman has a descption of the style -- "Blues is the truth", "Blues is a feeling") and so on -- but ironically it was John Lennon (who was never much interested in it) who had a telling description.
He said, "the blues is a chair, not a design for a chair or a better chair . . . it is the first chair. It is a chair for sitting on, not for looking at. You sit on that music".
That would seem to encapsulate it . . . and we all know how different chairs are.
Kokomo -- originally Kokomo Blues -- out of the Bay of Plenty have playing and reinventing the blues for 25 years now and across this double CD retrospective which comes in a DVDs-zed box with an excellent, illustrated booklet giving details of the various line-ups around founders Derek Jacombs and Grtant Bullot.
To their undying credit they -- like Windy City Strugglers playing folk-blues and beyond in Wellington -- they wrote original and locally-referencing songs. The first disc here includes Rainy Night in Taupo, the wry Superheroes ("if we lived in China they'd would lock us up and torture us but stranded here in paradise they barely give a fuck for us") and Wasteland in quick succession. And they shift from slow folk blues to early Dylan-styled blues to an almost romantic shuffle.
Over the years -- decades actually -- Kokomo constantly drew on new and old sources, whether it be ragtime or Alabama 3, literate singer-songwriter tropes or harp honking, jazz-influenced sounds.
So here you'll find rolling piano, folk-blues ballads, New Orleans-coloured party music (the end--f-days dance into the abyss style of the title track), traintime harmonica blues live material, their terrific Bigger Than Brando which gives Tom Russell a run for his money, a Dylan song (Cats in the Cradle from their Bob covers album In the Well from '08) and so much more.
Kokomo have carved out a very large niche for themselves through constant work (they've played every kind of music festival imaginable) and a steady stream of album . . . from which they could draw from for this impressive career overview.