Graham Reid | | 3 min read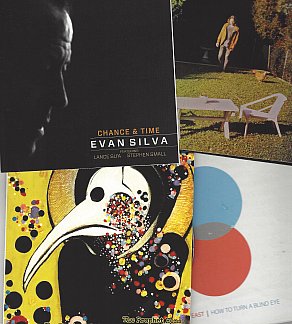 Facing down an avalanche of releases, requests for coverage, the occasional demand that we be interested in their new album (sometimes with that absurd comment "but don't write about it if you don't like it") and so on, Elsewhere will every now and again do a quick sweep like this, in the same way it does IN BRIEF about international releases.
Comments will be brief.
Into the East; How to Turn a Blind Eye (intotheeast): Liv McBride and Graeme Woller who are the core of Into the East have long been Elsewhere favourites for the passion and compassion they bring to their earthy, considered and often abruptly poetic songs. From the title inward here they bring a more socio-political urgency to their material which reflects these harder car-sleeping, streetpeople times. They never resort to dogma but rather work from the heart to the head in songs which stand along the border of folk reflection and folk-rock raucousness. Emotional dislocation (the disturbing Murder the Night with its compelling echo and production) and eroded relationships (the extraordinary title track) are here, but also eerily spare and physically evocative songs (Sand of Stars) drive this forward. This is 21st century music with its roots going back centuries (the questioning We'll Be Gone) impel this with rare passion and righteous indignation about the times in which we live (An Open Letter to Those We Once Respected). More than a step up, this is a giant leap ahead. Check the clip below. Get it from here, but get it.
The Prophet Hens; The Wonderful Shapes of Back Door Keys (Fishrider): In the same week as the memoir of Flying Nun founder Roger Shepherd arrives and we read again about those glorious days of the early Eighties and the noise of the Nunnery comes this, the second album by a band whose debut barely moved a jot from the whole lo-fi/jangle/minor chords of so many early Nun bands (Bats/Chills). Apparently that album got some nice notices overseas according to the promo sheet . . . Well, only one mentioned in the promo sheet for this new album, and that a one-man Seattle blog as unreliable as this. So we might just observe that not a lot has changed on the PHens front except maybe the energy jangle levels have gone up (more Sneaky Feelings than disappassionate early Chills) but the reference points remain the same. This is being released in Britain, the Brits may get more nostalgically excited than round my house. Some nice songs though, and that was always a FNun thing too. Stick around for the six minute closer though. T'riffic/classic post-Clean. Available from here.
Drunk in a Park, Prophet Hens
Mali Mali; As a Dog Dreams (malimalisongs): Released at least a month back and going right by Elsewhere at the time (broken arm/busy/life/usual excuses) this one has always felt kinda close . . . and overdue to write about. Mali Mali is Ben Tolich from Auckland and these intimate, sometimes finger-scrape ambient folk/personal songs have an almost audacious sense of emotional nakedness, the kind of "my life as a story" of Sun Kil Moon (with the many deaths, thankfully) and sometimes a glistening pop song just within reach. When the full band fires up behind him (the lyricaly penetrating Nice But No Soul with what sounds like theremin) this is so close to meaningful Avalanche City-type pop that Tolich is within sniffing distance of crossover success. Get it from here. In an age when people protect themselves or present an ego in their absence, this sounds courageous.
Birkenhead, by Mali Mali
Evan Silva; Chance and Time (evansilva.com): And now for something completely different. Decades ago when we had a sophisticated cabaret scene (and that was very cool), New Zealand had wonderful working soul-jazz singers. It was a world where classy and professional musicianship was respected rather than derided because it lacked some cliched, perceived "authenticity". Evan Silva -- once a renown r'n'b rock singer beneath a handsome Afro -- comes from that time which, especially when added to his religious persuasion (his website has Shine TV "god spots") will be unfashionable. But thinking people put such diversions aside and go to the music. And here Silva -- with stellar assistance from Stephen Small (keyboards, Verlaines), Murray Grindlay (you do the websearch) and guitarist Lance Su'a among them -- delivers a gentle and enjoyable selection of original songs which touch the Latin and the heart. The world won't shift on its axis becase of an album like this, but it is a warmer place for its presence. Check it out here.
You and I, by Evan Silva