Graham Reid | | 2 min read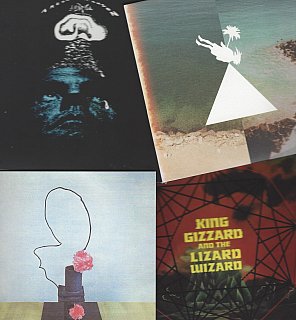 With so many CDs commanding and demanding attention Elsewhere will run this occasional column which scoops up releases by international artists, in much the same way as our SHORT CUTS column picks up New Zealand artists.
Comments will be brief.
Methyl Ethel; Oh Inhuman Spectacle (4AD): Out of Perth, Western Australia – which has given us Empire of the Sun – comes more dreamy, hazy uplifting post-glam pop with its head in the clouds and (most often) feet tentatively stepping onto the dancefloor. There's also some toned-down early Bowie here and – more unexpectedly – some Anglo-folk allusions at the midpoint. The debut for mainman Jake Webb and his compadres, this also edges towards the most pop end of Flaming Lips and while the surfaces are sometimes scratchy they are most often given a pillow of winds to lift them up . . . but there's also an unease at the heart. Interesting but not essential. One of those albums you either immerse yourself in, or it goes right past you and your life is no poorer. We're in the former. See the clip below.
King Gizzard and the Lizard Wizard; Nonagon Infinity (Heavenly): More Australians, these ones rightly hailed for their overloaded rock psychedelics delivered with a hardcore attitude and lashings of wit, blues harmonica, weird Middle Eastern guitar solo then something shaved from rockabilly, thumping beats . . . . and that's just the thrilling opener Robot Stop on this, their fourth album. In many respects they are a throwback to the psych-rock of the early Seventies (Hawkwind increasingly being a reference point for many bands these days?) but they turn it up to 11 and sound like they are enjoying themselves a whole lot. And they cleverly segue one track into another so the energy levels never drop and, like the best rollercoasters, you are at the end before you know it and just want to grip the rail for another ride. Much recommended. Be prepared to howl like a hound from time to time.
People Vultures, King Gizzard and the Lizard Wizard
Arbor Labor Union; I Hear You (Sub Pop): Out of Georgia, these post-punk rockers come across as a marriage between the Stooges (without Iggy's compelling delivery) and Television (without the latter's guitar solos). It's frequently tough-minded and grounded in Southern stoner rock, but with unusual philosophical, political and pastoral references thrown into the grinder. They aren't into sharp pop economy – a few of these gritty songs roll past the five minute mark and beyond – but their ping-pong bounce between grinding riffs and guitars dueling with fuzzed-up chords can be unexpectedly appealing. Not an easy one to get a bead on, pulled back a few notches by singer/guitarist Bo Orr's limitations but -- pitched somewhere between drone-Americana (the political IHU) and hard rock -- it has more than a little going for it.
Radiant Mountain Road, Arbor Labor Union
Melt Yourself Down; Last Evenings on Earth (Leaf/Southbound): This multi-culti British ensemble have players with serious form in other bands (Acoustic Ladyland, Heliocentrics, Transglobal Underground) so pan for their nuggets in every stream from punk, dance, North African sounds, electronica, jazz (closer to Rip Rig and Panic than John Coltrane) and frantic criss-cross rhythms. It can leave you a bit breathless but you can't deny its tough urbanism hooked to the exotica of sub-Saharan and funky Moroccan'roll. Doubtless best experienced live and if they come to a Womad their crowd-pleasing stylistic mash-up – add in PiL, Beastie Boys' techno, madcap dance and so much more – will have people on their feet . . . or fleeing as fast as possible.
Communication, Melt Yourself Down