Graham Reid | | 2 min read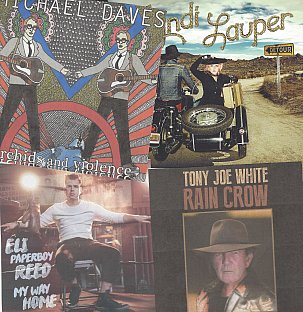 With so many CDs commanding and demanding attention Elsewhere will run this occasional column which scoops up releases by international artists, in much the same way as our SHORT CUTS column picks up New Zealand artists.
Comments will be brief.
Michael Daves; Orchids and Violence (Nonesuch):
Here's one for real bluegrass fans, and those with a taste its energy but gone electric. This double disc by the Georgia-born, New York-based and Grammy-nominated guitarist – who has recorded for Jack White's Third Man label – finds him playing traditional songs – and Mother Love Bone's Stargazer – on the first (and recorded in a church with a roots band) and then the same songs on the second in home recordings with a rock band line-up. The former plays a very straight but exciting bat to the songs, the second really hauls in the alt.rock with staccato sounds, low thumping bass and almost grinding drone in places. That second disc won't appeal much to fans of traditional country but those who like Neil Young, the more melodic end of Sonic Youth and experimental rock of the National kind will find plenty to turn up to 11. Very much a game of two halfs. Explore and compare these two versions.
Dark Angel (bluegrass)
Dark Angel (electric)
Cyndi Lauper; Detour (Warners):
Cyndi Lauper made a decent fist of it when she turned her distinctive pipes to the blues on Memphis Blues five years ago so perhaps this detour into country – in the company of Emmylou Harris, Vince Gill, Jewel, Willie Nelson and Alison Krauss – isn't so unexpected. What is unusual is that the girl from Queens should head into the country songbook from (mostly) the Forties and Fifties rather than the contemporary catalogues. Recorded respectfully in Nashville with top session players, Lauper delivers in spades for most of these songs and captures the yearning passion on Bob Montgomery's Misty Blue, the country-pop of Heartaches by the Number and The End of the World, and acquits herself credibly on Patsy Cline's Walkin' After Midnight and her classic weeper I Fall to Pieces. She taps a little light rockabilly-cum-barndance sound on You're the Reason Our Kids are Ugly and Wanda jackson's broody Funnel of Love. Bet you'd never thought you'd hear Lauper singing I Want to be a Cowboy's Sweetheart, and do it so well. Enjoyable.
Begging To You, Cyndi Lauper
Tony Joe White; Rain Crow (YepRoc/Southbound):
It's strangely reassuring that TJWhite – who wrote the classic Polk Salad Annie – is still down there in the swamp, eatin' grits, drivin' his truck, feelin' the Louisiana heat and weirdness . . . and not messing with his winning formula of often doom-laden stories populated by outsider characters and his distinctive guitar. The almost archetypal Middle of Nowhere is a co-write with Billy Bob Thornton, and if White's voice is far more shaky – and lacks the deep bottom end it once had – it's croaking whisper largely enhances the distant, careworn quality of his narratives. Hard to believe, but although he is still mining the same dark and wet dirt, Tony Joe White is still managing to finding something to say that is well worth listening to.
Conjure Child, Tony Joe White
Eli Paperboy Reed; My Way Home (YepRoc/Southbound):
The debut album Roll With You by this soul-blues shouter was in our Best of Elsewhere 2008 list and although there were a couple of albums with diminishing returns after that, you can never deny his vocal power. And in case you have forgotten he reminds you on the paint-peeling openers here where he channels as much of the Wicked Pickett and James Brown as he does of a tortured gospel spirit. The problem is that it immediately sounds overwrought and when you are the top there nowhere further up you can go. But what he cleverly does – on songs inspired by the sanctified gospel spirit tellin' that midnight he gonna be cut down – is blend the soulful yearn with white heat electric guitars and some immediately familiar but enjoyable chord and lyrical progressions. And damn if that ain't Sam Cooke being channeled for Tomorrow's Not Promised. On a blindfold test you'd still swear he was a black singer not from Brooklyn, where he recorded this in a loft. That loft has been sanctified and the demons driven out.
Conjure Child, Tony Joe White