Graham Reid | | 3 min read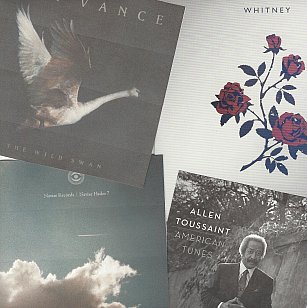 With so many CDs commanding and demanding attention Elsewhere will run this occasional column which scoops up releases by international artists, in much the same way as our SHORT CUTS column picks up New Zealand artists.
Comments will be brief.
Whitney; Light Upon the Lake (Secretly Canadian): It's forward into the past for this Chicago six-piece who reach back to the folk-pop and power-pop lite of the Seventies for this temperate, breezy foray into 10 concise and reflective falsetto boasting choruses, horns and clean guitar parts (wee aural echoes of George Harrison's slide style). Closer to country-rock and America (the band) than anything much on the indie spectrum, Whitney – formed out of the ashes of Smith Westerns – are undeniably pleasant, thoughtful and write polite, well-crafted material which sometimes gently nudges into pastoral psych-folk. But those who passed through the Laurel Canyon era, Gerry Rafferty et al. be mostly on familiar ground and bemoan the lack of harmony vocals which might have made this more interesting. Polly however is kinda cool as a move towards horn-supported white-soul. Check the clip below.
Allen Toussaint; American Tunes (Nonesuch): Curiously Whitney above cite the late New Orleans pianist/songwriting legend Toussaint as an influence, which is hard to discern on their album. For a final album this collection – which he finished recording just weeks before his death last November – is a wonderful homage to his own influences (Professor Longhair, James Booker etc), great jazz artists like Bill Evans, Fats Waller and Duke Ellington (Waltz for Debbie, Viper's Drag, Rocks in My Bed and Come Sunday are here) and takes its title from the singular of Paul Simon's lovely lament for his country during the Nixon era, which hear had added political and emotional resonance to day and in Toussaint's shakily enunciated treatment. With guest guitarists Bill Frisell, Greg Leisz and Adam Levy, arrangements by Van Dyke Parks and saxophonist Charles Lloyd, this is an elegant farewell note from a master, here offering restraint rather than the sometimes earthy playing of his earlier decades. His re-hit of his own Southern Nights with Parks on a second piano is a front parlour masterclass of ivory exploration while keeping the funk in its heart.
Waltz For Debbie, Allen Toussaint
Foy Vance; The Wild Swan (Warners): Talk about connected, Foy is signed to Ed Sheeran's new Gingerbread Man label, this was produced in Nashville by Grammy-winner Jacquire King (Tom Waits) and the executive producer was Sir Elton John. Not bad for an Irish boy based in Aberfeldy . . . who has also worked with Rudimental and Sheryl Crow, had Bonnie Raitt on his previous Joy of Nothing album, has had his songs appear in those coin-spinner Grey's Anatomy and Sons of Anarchy (sung by his pal Ed). He knows how to carve out a song and a strong album with a nod to the swamp sound of John Fogerty (the opener Noam Chomsky is a Soft Revolution and Casanova), classic Bowie (Ziggy Looked Me in the Eye in which also channels Tumbleweed-era Elton and namechecks T.Rex), toned down country-rock (coco) and Springsteen in his Irish folk mode (Fire It Up). More than just a confluence of influences, Vance has a powerful voice which almost seems out of step with these times where male singers aim for soft sensitivity or falsetto. He just lets the sandpaper in his voice stand up front of songs which could as easily fit on rock, country and classic hits radio. He celebrates good times (Upbeat Feelgood which drags in a little Moondance-era Van Morrison), tells a good story and has a political conscience which he lets filter through.
This, his third album doesn't look like it has done the business it should have, but be sure to hear it. Impressive and, if some tropes are familiar, he brings something authentically his own to his songs.
Available on vinyl with a download code too.
She Burns, Foy Vance
Various Artists; Naviar Haiku 7 (Naviar): Fascinating. The London-based Naviar label has an on-going project: It sends a different Japanese haiku poem to a variety of experimental artists and invites them to create a piece of music inspired by it within just seven days. The 25 artists here – who come from all over the world – responded with wistful or uplifting electronic ambient pieces, subtle dronescapes, muted vocals and quietly measured music which never strays into New Age. It's not all lo-range so you never actually zone out to it because something new comes along very soon. This music came Elsewhere's way a few weeks ago and provided the gentle backdrop to rare downtime and sometimes while highly focused work was required. It is most often lovely and quietly beguiling . . . and now that we have only just got round to acknowledging it Naviar have a Haiku 8 collection released. Check the label and this music out here
Bitter Cold, Dave Dorgan