Graham Reid | | <1 min read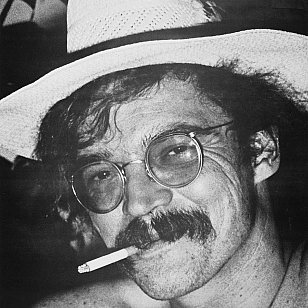 Part Tex-Mex short story about murder, desperation and consequences, and part song-cycle in a spare style, this '75 debut album by the artist/musician and Lubbock-born cult figure Allen was years ahead of its time in in its broad conception.
The storyline reaches back across time from the contemporary world to the Aztecs and the Catholic colonialist Cortez ("he crossed all that water with cannon and fodder, if need be to slaughter for Gods and for gold") but also exists in the realms of metaphor and symbolism (Dogwood) between the stark narrative and tough, beaten characters.
There is a Cormac McCarthy/Larry McMurtry quality about Allen's writing in that he explores various forms of being an outsider walking a dark path, and the warped belief that a highway might lead to freedom down the road.
This handsome reissue comes with a 48-page booklet of lyrics, Allen's tie-in artworks for Juarez and essays by the likes of Dave Alvin and a biographical/artistic overview by the Paradise of Bachelors reissue label.
Mostly it is just Allen at piano with Peter Kaukomen on guitar, but this is essential if Townes Van Zandt, Randy Newman, Dave Alvin, songwriter-novelist Willy Vlautin, Greg Brown, James McMurtry and Tom Russell have been on your musical radar. Or if films like No Country for Old Men held some appeal.
It is very different and a dark ride.
As the man himself says, "Today's rainbow is tomorrow's tamale".