Graham Reid | | 1 min read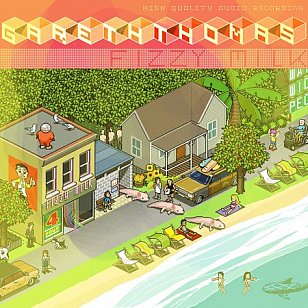 In a cover so good you want it album-size to frame, this second solo album by Auckland songwriter Gareth Thomas – formerly of Goodshirt – really does fizz with addictive pop which exists at a very comfortable and happy midpoint between canny synth-pop and mainstream guitar pop-rock.
And it's telling that the word "pop" appears there twice because Thomas and compadres craft finely focused songs (these 11 average at 3 minutes) which have a bounce about them. They also offer subtle nods to disco and the dancefloor (Weird Fever with a very cool bass line) and a sense of joy is spotted throughout (the featherlight and dreamy Blue Blue Day which comes with warm horns).
Thomas only occasionally resorts to falsetto (increasingly the default setting for many male singers these days) and when he does it just feels so right.
He's not averse to a little muted Cars-like guitar rock (the moody I'd Like, the funny because it's true Girlfriend on my Hofner, "she plays better than me").
Mostly you can't help notice Thomas sounds happily loved-up and it comes through in songs which put a relationship through the perspectives of a prism (longing, happy, the letting go, enjoyable confusion, the pleasure of the moment, "I'll follow you blind" on the guitar-twanged Wide Wide Eyed).
We even forgive him the reggae-funk-dub Way Too Hot because it is so delightfu, simple and cleverly arranged with faux steel drums. It's as catchy as hell.
From the snappy synths, singing bass lines and simple but smart arrangements, Thomas' interesting lyrics and diverse deliveries, Fizzy Milk sets a very high threshold for intelligent Kiwi pop albums this year.
Highly recommended.