Graham Reid | | 1 min read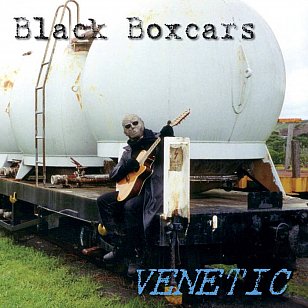 Despite a cover which suggests something akin to John Cale at his most manic, it's the acoustic guitar whch undercuts the image and gives a clearer picture to this, the eighth (eighth?) album in 10 years by Wellington's Venetic.
Venetic is Wayne Stuart McCallum who maintains a fascinating website (unusual psychedelic albums, snippets of music writing, travel photos from Europe, the US and beyond, something about being a mummy) and seems to record and release albums as a one-man music machine. (He writes and sings and plays everything, records, produces and mixes himself, designs the covers).
This one comes on vinyl with a download code and subverts expectation at every turn.
There are songs of bitterness and betrayal here but they are delivered as acoustic-framed folk-pop with melodies and hooks which creep up on you unexpectedly. The title track comes off like Chris Knox at his most tuneful and simple over a terrific guitar jangle-riff, and there are political ideas woven through (the generational class struggle on Back in the Day and global promises we've been sold on Welcome to the Future).
And he can write a tight pop song: A Matter of Time, among others.
Venetic -- the name means outsider/foreigner -- often delivers with a low intensity and urgency, and a few songs reek with disappointment (in life and love) but he also leavens the mood with memorable jangle and optimism (Come Out Michelle).
But on The Man and His Toys he delivers a chilling image of a mysterious figure: "Mothers hurry their kids past that window . . . he'll come running and screaming after you".
Venetic may seem out on a limb in that he's a cottage industry which might sem to verge on a vanity project, but there's more than enough here across these 12 songs to keep your curiosity piqued and your interest rewarded.
Seven previous albums? That's impressive.