Graham Reid | | 2 min read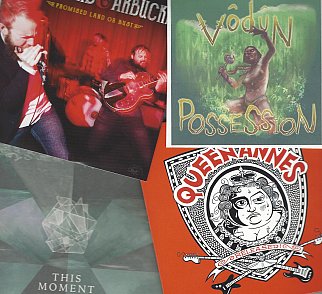 With so many CDs commanding and demanding attention Elsewhere will run this occasional column which scoops up releases by international artists, in much the same way as our SHORT CUTS column picks up New Zealand artists.
Comments will be brief.
Soren Juul; This Moment (4AD): Denmark's Juul is one of the more interesting artists around, on the basis of the 2013 album Somewhere Else (under the name Indians) and this debut under his own name.
Working as a contemporary singer-songwriter who links the laptop and gentle electronica to his thoughtful folk-pop, Juul puts the sense into sensitive and his lyrics refer to his limitations and fragility (but also his solidity, loyalty and optimism), the pleasure of moments and discovery (in life and love) and his songs are punctuated by natural imagery (leaf in the snow, a beach, a fire, the moon and so on).
That might sound a little twee but couched in warm, sometimes gravity-defying and reassuring electro-pop, this is undeniably pleasant and bound to persuade equally gentle souls.
Greenpoint, by Soren Juul
Vodun; Possession (Riff Rock/Southbound): Well, this is a bit different: a heavy duty psyche-guitar rock trio fronted by a precipice-leaning and soulful female singer Chantal Brown aka Oya and involving something about ancient spirits, goddesses and being possessed.
It's mostly a furious concoction of metal edge, dark voodoo of sky-piercing emotion, guitars turned up to 11 and the occasional vodou rhythm (Legba's Feast) coming from the cannoning drums. Imagine a helium-inhaling and angry Grace Slick fronting Anthrax and you are in this 11 song/40 minute territory.
Quite thrilling actually.
Mawu by Vodun
Moreland & Arbuckle; Promised Land or Bust (Alligator/Southbound): From Chicago's excellent Alligator comes this label debut – after five previous outings – by a trio out of Kansas (drummer Kendall Newby doesn't get a band credit alongside Aaron Moorland and Dustin Arbuckle). With raw harmonica, driving Chi-Town influenced blues in the mix alongside rocking-out country elements (Long Did I Hide It) so you can see why they have toured with ZZ Top, George Thorogood and Buddy Guy.
Among the few non-originals is Slim Harpo's rude King Bee given a roadhouse treatment (with Scott Williams on piano) . . . and low bars, raunchy roadhouses and whisky-chaser clubs would seem their natural home. They don't try to reinvent the genre, just make sure it is tough enuff for y'all.
Play loud and stand well clear.
Long Way Home, by Moreland & Arbuckle
The Queen Annes; Released (Green Monkey): We passed by with this Seattle band a couple of years ago when the Green Monkey label released Something Quick 1980-1986 collection of their British late Sixties psyche-pop influenced rock and we pulled a track for From the Vaults
Well, they are back – this taken from the master of their all-but-lost 97 album – and this is really quite something, if the idea of a band which sounds raised on the Beatles' Rain, Barrett-era Pink Floyd and pre-Tommy Who takes your fancy. Here they drop in two BeeGees songs from that band's '68 Horizontal (the trip-pop of The Earnest of Being George, and Harry Braff which fit in seamlessly) alongside 11 originals and a cover of the Beach Boys' This Whole World (from Sunflower).
Three decades after it happened (and now almost two decades after they recorded this) Anglo psychedelic pop-rock was in very good hands in Seattle.
She Swims Sideways, by the Queen Annes