Graham Reid | | 1 min read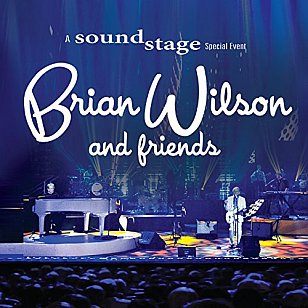 There is certainly no shortage of Brian Wilson music about these days. We've had a couple of versions of SMiLE (including the excellent box set) and more recently the 50th anniversary reissue of Pet Sounds (again in an impressive expanded edition).
Then of course he has released solo albums like No Pier Pressure (none of which have done much in the way of recapturing the old magic).
And now this a 19-song CD and 26-song live DVD of Wilson with his regular players (Blondie Chaplin, Ricky Fataar), longtime Beach Boy Al Jardine and some guests (Sebu, jazz trumpeter Mark Isham on the delightful instrumental Half Moon Bay, Nate Ruess, She and Him aka Zooey Deschanel and M. Ward).
Because the SMiLE and Pet Sounds sets have scooped up the important songs which Wilson fans and newcomers want and need to hear, this selection errs to more recent material off No Pier Pressure (on which Sebu and Isham appeared), the Beach Boys patchy reunion album of 2012 That's Why God made the Radio, concert favourites (Sloop John B, Wouldn't It Be Nice, Help Rhonda, Fun Fun Fun) and classics (Dont Worry baby, Heroes and Villains, Good Vibrations, Don't Talk, God Only Knows).
These songs often get the souped-up live treatment (enter blazing guitar solo, brusque sax, clap along with Good Vibrations) and of course Wilson's voice isn't a patch on what it once was.
However this is not as uneven as it sounds – let's be honest Brian Wilson's recent best songs shave off from his legendary Pet Sounds/Good Vibrations period – and if it shines a light on his recent and rather lovely Pacific Coast Highway and Summer's Gone (from That Why God Made the Radio) which appear as bonuses on the DVD then all well and good.
But we repeat ourselves: there is no shortage of Brian Wilson music about these days.
This is mostly just more of it.