Graham Reid | | 1 min read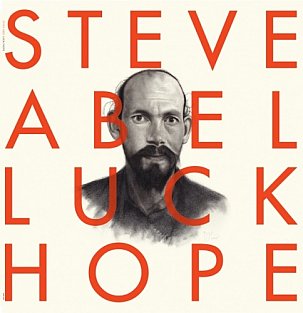 While it may seem contradictory to criticise Aaradhna for her downbeat Brown Girl and be favourable about this almost funereal folk, that has been Steve Abel's idiomatic reference point -- he entered and won the Saddest Song in the World compeition in Germany in '09 -- and these eight songs (coloured by scraping and lachrymose violin) are all of such a piece that they form a song-cycle of emotional weariness and quiet intensity.
We might also note in passing that this music is not for everyone, but then it isn't intended to be. By virtue of its style, it is selective about its audience.
The ground for Abel's introspective alt.folk has long been prepared by the likes of Iron and Wine, Bill Callahan/Smog and many others but Abel also brings a distinctive drone quality (the background distortion and repeated guitar figure on the six minute-plus Trying here which creates an eerily atmospheric effect).
It goes without saying that when he sings "Take off your shoes and dance, this is the time of your life" (on the discreetly country-coloured Dance) there isn't exactly going to be a knees-up which follows, rather a slow, faltering and emotionless embrace on a deserted parlour.
The title of Not Going Anywhere – a rather beautiful ballad sung like a man alone in an Irish bar with a 3am hangover – belies the story being told.
The nuance in the songs bring them to life and as if to prove he can rouse himself Abel offers the excellent Sidewalks Dove of New York City which hits a point between Shane MacGowan and Mike Scott in jangle-folk mode.
The poetic Irish spirit appears again on the lovely title track right at the end where Abel ruminates on despondency as the fiddle evokes a keening wind in the distance and the clattering percussion sound like they've been recorded below deck when the wheelhouse above has been abandoned and the vessel's course left to fate.
This is quite a journey.
Steve Abel answers our Famous Elsewhere Songwriter Questionnaire here, and has a few album release shows coming up.
Saturday 6th August, Wine Cellar, Auckland
Thursday 18th August, Meow, Wellington
Friday 19th August, Raumati Social Club, Paekakariki