Graham Reid | | 3 min read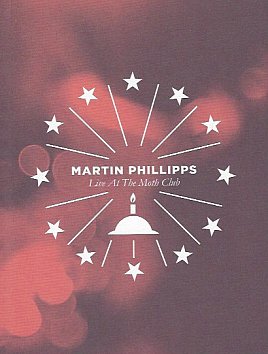 For Martin Phillipps of the Chills – a songwriter, lyricist and arranger of rare skill and often genius – the successes of this moment must feel like vindication.
In the past eight months Phillipps – whose career seemed to be finished when he broke up the Chills on stage n the US in 92 – has ridden a long overdue wave of recognition in the US and Europe where they have toured. There has been the release – through Britain's Fire Records – of the Chills' BBC Sessions in the Eighties and more recently the excellent Silver Bullets album.
After a couple of decades in the wilderness where only the songs survived and he had an on-going struggle with health issues, Phillipps is now back and while polishing off some of his classics, he has new songs which stand the equal of his best.
It couldn't happen to a more deserving artist because Phillipps' songs like Pink Frost, I Love My Leather Jacket, Doledrums, Brave Words and many others have written themselves into the consciousness (and subconscious) of a generation in New Zealand . . . and went into important ears internationally.
Should anyone still doubt Phillipps gifts then simply consider the rising and falling melody of the aptly-named Heavenly Pop Hit or the sheer joy imbued in Kaleidoscope World.
His path however has not been easy and many of the problems in the early years – the inability to hold a band together – were clearly of his own making. Many would attest to his poor communication skills with band members and in his search for pop perfection made life difficult for himself as much as others.
He denies he was difficult and that the many members who passed through the band in the first 15 years left of their own accord or because it was simply impossible for them to survive financially when he at least had publishing royalties. (These days he splits such royalties and the consequence is a stable line-up.)
Such is the price the gifted – and their fellow travellers – have to pay.
Yet the converse of his inward-looking personality is the candour that he can exhibit at times when discussing his work, life and even shortcomings.
This double set – a live CD recorded solo at the Memorable Order of the Tin Hats club in Hackney late last year, with a 90 minute biographical DVD entitled The Curse of the Chills – illuminates all of that: the curse of the gift and his faithfulness to his true course as much as anything else.
It would only take a couple of tweaks on some of his songs tand they could become huge hits, he says (true) "but I'm not going to do it".
On the live disc he addresses that illustrious past – the hypnotic guitar chime of Pink Frost kicking things off, two songs from Silver Bullets peppered in – but the DVD is where the nuances of the songs and his life come through.
Even now when he talks about the death of drummer Martyn Bull in '83 who bequeathed him his leather jacket you can see how close to the surface his feelings about that still remain, even as admits to hiding the message behind what he calls a glam riff.
(In passing he notes with equal emotional and nervous agitation the more recent suicide of Peter Gutteridge who he was told played I Love My Leather Jacket – a song he'd never played before to Phillipps' knowledge – in the days before his death.)
As he tells of the genesis of songs like Pink Frost (written before his mother's illness but a work of fiction and not about malice towards a girlfriend he'd broken up with) you can hear just how deeply Phillipps feels his music, the songs often deeply personal but also crafted into works of mesmerising melodicism. Footage from the MOTH club performances just push home the point and the passion.
Sometimes the crisp footage has relevant lyrics on the screen: "I'd much rather go down fighting then at least I can go down with pride" on Brave Words for example. A position he says he is still trying to sustain "in my own wee way somehow".
There is also exciting archival footage, family films and home movies of his massive record and comic collection he amassed when the money came in after Submarine Bells . . .
Some of this – the cost on a relationship and his close family, who come off as lovely and supportive – is painful for him, even now, to speak about. And yet he does with often nerve-end honesty and insightful self-analysis of his songs and himself. And he doesn't shy away from speaking about his heroin addiction and the attraction of the dark side (and "friends" who just wanted to borrow money).
The consequential health issue aside, these are long overdue better days for Martin Phillipps. And for anyone who has these songs in their ever-present past . . . or has only just come to him.
Essential, if you want to know where Martin Phillipps came from, went to and where he's at now.