Graham Reid | | 1 min read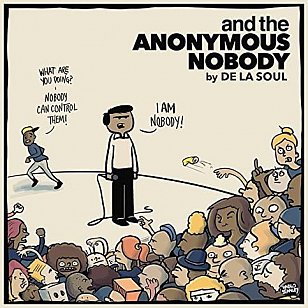 Although this opens with considerable throat-clearing by Jill Scott in a speech of empowerment which sounds beamed in from some African-American politico-Dorothy in The Wizard of Oz, once thing settle thereafter the genius of the hip-hop innovators De La Soul is evident all over again.
Cinematic in its reach, peppered with short passages (the 90 second CBGBs and similarly lengthed Sexy Bitch) and guest-heavy, And The Anonymous Nobody has reach and depth, wit and even some ladelled-on wisdom.
Among the most unexpected guests is Justin Hawkins (formerly of British heavy metal parodists the Darkness) who provides the rock-out backdrop on the seven minute-plus centrepiece Lord Intended, a downpiece slice of deliberately lumbering hard rock.
Early up Snoop Dogg provides the first memorable cut with his slippery rap on the funky Pain which is grounded in the Seventies, and right at the end Damon Albarn sounds at home with the DLSoul crew on the equally cruise-mood sound but serious lyric when he brings a dreamy, Bowie-like quality to his vocal on Here In After.
Between those two poles is an album of intelligent, studio-savvy hip-hop (erring to trip-hop) with contributions from Estelle and Pete Rock (the slo-groove and strings on Memory of . . . Us), David Byrne (the quirky-jerky Snoopies which has some self-referential and religious lyrics), Usher (the serious narrative of Greyhounds), Little Dragon (the atmospheric Drawn which is a highpoint) and others who largely sublimate their idiosyncracies to become part of the widescren DLSoul sound.
Hip-hop has been in some golden period recently but it's wonderful to hear a group which has been around for almost 30 years can still come up with something fresh, gently provocative and coherent as this.
It is only 70 minutes long but by being broken into 17 tracks it can feel a touch in need of editing -- those shorter pieces don't add much. But that's a small criticisim of an album which deals in musical nuance and texture, and -- when it isn't being serious -- sounds like sophisticated fun.