Graham Reid | | 1 min read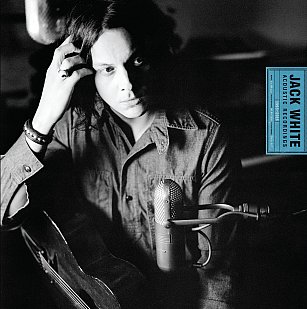 Right from the start, Jack White was a shapeshifter, sometimes a garageband rocker, at others a raw blues player or a guitarist conspiring with his inner Jimmy Page to give Led Zeppelin a run for their money.
He could sing what sounded like a tossed off children's song (the delightful We're Going to Be Friends) or dig in deep as an inspired rock star for whom the spotlight of fame beckoned.
This excellent double disc turns the attention another way in stripped back material which appeared in other versions for the White Stripes, Raconteurs or on his solo albums Blunderbuss and Lazaretto.
This is White (and sometimes Meg on percussion or other sparingly used players) on acoustic guitar exploring the songs as they came to him, sometimes twisting them in a new way (the bluegrass version of the Raconteurs' Top Yourself) or channeling the spirits of long-gone bluesman who inspired him. And much more.
Were you aware he'd written a Coca-Cola commercial (Love is the Truth) a decade ago?
Apparently the video only aired once and the song has never appeared anywhere previously, until now.
Here too are spare versions of Well It's True That We Love Each Other with Holly Golightly, Never Far Away from the Cold Mountain soundtrack, and Jack and Meg with Beck on Honey We Can't Afford to Look This Cheap from their 2007 single,
The first disc is mostly just Jack (with Meg in attendance on percussion) on White Stripes material (We're Gonna Be Friends is even more delicate, like something off McCartney's first solo album) and the second brings in other players for acoustic band sessions, among which is a fine fiddle'n'banjo version of the Raconteurs' lengthy Carolina Drama.
Beautifully packaged with all the lyrics and a liner essay by Greil Marcus (who slightly perversely writes about a Son House song -- which White loves but doesn't cover -- as the pivot of his thinking about Jack).
Sometimes artists release live albums or stuff from their vaults simply as a stop-gap measure. In rare cases – Neil Young, Bob Dylan, Amy Winehouse come to mind — the rehearsals, acoustic sessions and whatnot are actually worth hearing.
Jack White, especially on the first disc here, is in that company with this collection.