Graham Reid | | 3 min read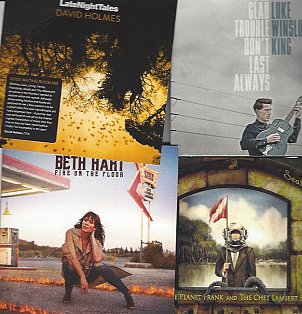 With so many CDs commanding and demanding attention Elsewhere will run this occasional column which scoops up releases by international artists, in much the same way as our SHORT CUTS column picks up New Zealand artists.
Comments will be brief.
Beth Hart: Fire on the Floor (Provogue)
On the back of her excellent, largely autobiographical album Better Than Home played an exceptional blues-rock show at Auckland's Powerstation in 2015.
With a voice which can swing or sting the blues, has the firepower of Janis Joplin or the fragile emotions of a Billie Holiday, Hart is a rare one in the landscape of rock these days.
This time out, because she's dealt with her troubled past before, she mostly puts that aside (until the final track, the piano ballad No Place Like Home) and digs in to the slippery swing of Jazz Man, the sultry and sexual quiver of Love Gangster, the horn-punctuates blues of their original Let's Get Together, the dirty rock'n'bluesy roar of Fat Man, the menacing broodiness of the title track which fairly steams with sensuality . . .
Beth Hart remains of one the greatest interpreters of a lyric out there working at the moment. Get Better Than Home for the sheer emotional heft of its autobiographical content, and get this one for the raucous rawness and liberating joyousness she brings to these 12 songs. But get both.
Good Day To Cry, Beth Hart
Various Artists: LateNightTales David Holmes (latenighttales/Southbound)
In which the LNTales series takes a turn into the strange where Christian religion (repentance hymns, a children's choir, judgement reflection) co-exists with disconcerting ambient music from David Crosby and a Middle Eastern singer. And a moving spoken-word piece by Anglo-Irish rock cult-legend BF Fallon who talks engagingly about the rare figure of guitarist Henry McCullough of Eire Apparent, Joe Cocker's Grease Band (the only Irishman musician to play at Woodstock, "with a little help from my friends") and later of McCartney's Wings and . . .
It is a beautifully personal moment on a segue of songs/instrumentals which otherwise seem rather distant and calculated.
Complier Holmes is a DJ/soundtrack aficionado and here brings the aural-visual connection into play . . . but much as you want the parts to become a whole they don't and – unlike previous instalments in this series – you are left with engrossing and engaging moments but no sense of much which coherent.
One of the few LNTales collections where you just want to download tracks rather than enjoy the whole arc.
Henry McCullough, from Late Night Tales
Luke Winslow-King: I'm Glad Trouble Don't Last Always (Bloodshot/Southbound)
Opening with a melancholy but singing bottleneck guitar, this thoroughly enjoyable collection has a measure of white-boy soul (that spiritually infused opener), some touches of darker blues (Louisiana Blues, the gritty grinding title track which alludes to I'm So Glad), some straight-up r'n'b (Act Like You Love Me), some Memphis soul stirring (Watch Me Go) and brooding country-funk (Esther Please).
With organ alongside violin, acoustic bass and a standard rock line-up, Winslow-King had a number of colours in his paintbox, and a neat line back into the traditions he respects: His original Heartsick Blues mentions Ray Price and Hank Williams songs.
WK, now five albums into a career, touches all kinds of Southern styles – with a little nod to tougher Chicago blues – and although his voice never quite gets the gravitas some of his lyrics demand, these nine songs make for some damn fine listening.
He's one that is bound to go past most folks (don't let you be one of them) and maybe he'll only connect here if he plays live. But if that day never comes (he carries a large band so . . .) then this will have to do.
Recommended.
On My Way, Luke Winslow-King
Jim of Seattle: Both The Planet Frank And The Chet Lambert Show (Green Monkey)
In which Elsewhere asks itself that age-old question: Why are we the sole South Pacific outpost of music from the Northwest Pacific?
Weeeeell, because . . .
Much as we might like the idea of Jim (whom we interviewed here at length because he was/is funny), this album of no fixed musical abode is one of those things which invite that 21st century phrase: "A challenge".
Now let it be said, scrupulous Zappa fans and concept album aficionados possessing a long concentrations span – and used to cross-referencing, genre shifts, and conceptual cut-ups – will be right at home here. And you all have each other's phone numbers, right?
But for the rest of us – admirers of Jim as we might be – this is . . . "A challenge".
Not because it is musically difficult – some of it like the reflective piano solo piece on Our Great Leader Speaks and the beautiful By Inches are engrossing – but because this is actually two albums in one, and each seems to be best appreciated as theatre presentations.
The first one The Planet Frank has the planet of the same name saved by aliens called The Elders although you suspect there is something in the visuals to carry the story which we are missing.
Musically this is fascinating: Bantemazeh peels off from the minimalist style and heads into Latin America; Our Great Leader Speaks might have been written for a quiet moment in a late Forties movie, and there the brief and funny Devo-like take on Wichita Lineman.
The Chet Lambert Show is about a light entertainment television show from the Seventies, again you just know if you saw them doing this it would be very funny. But on record?
It needs the glitzy floor show.
Yeah, nah, but . . . .
Wichita Lineman, Jim of Seattle