Graham Reid | | <1 min read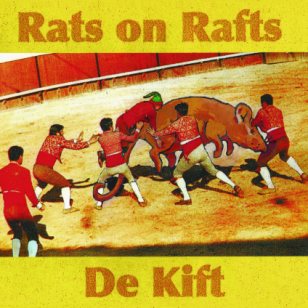 Yes, it's true we probably don't hear enough homegrown Dutch post-punk here. But despite the name of our country . . . why would we?
Here from the country which houses the province of Old Zeeland – which actually just down the road from Rotterdam – comes what we at a distance might consider a Rotter-supergroup.
Because longtime local noise-punk-pop-rockers RoRafts team up with near neighbours/brash brass post-punkers De Kift for . . .
Well, much as you might expect: rough hewn but exciting, play-loud, brash rock-with-horns.
The fury gets dialled down a bit in places (an acoustic ballad in pleasingly incomprehensible Dutch on Dit Schip) but old Kiwi post-punkers who knew the UK scene may hear echoes of the Ruts . . .
The title of Melk en Benzine might suggest Dr Feelgood's Milk and Alcohol, but with the Kift horn section on board, some serious forward-leaning guitar thrust from RoRafts' David Fagan and a kind of Wall of Intensity in attack you can't help but punch the sky . . . while asking yourself, "What the fuck is this guy on about?"
That said, this is a recording and it is doubtless an experience you need to see and feel.
At a Womad perhaps?
But, if you only buy one album by an implosion of two bands from Rotterdam this month . . .
This has been a readers' service.