Graham Reid | | 1 min read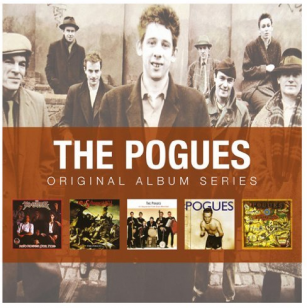 Odd isn't it, how artists who were once so important and perhaps even defined their era – Talking Heads, REM and Oasis come to mind – quietly disappeared and barely make it into a conversation these days.
So seems the fate of the Pogues also whose boozy, sentimental, political and often moving songs and poetry spanned the Eighties. The lyrics of Shane MacGowan and the spirited delivery of the band made for albums which balanced the barroom knees-up with melancholy stories of Irish history and the diaspora.
Inevitably a catalogue of songs is reduced over time to just a few – for the Pogues it seems to have come down to A Pair of Brown Eyes, Dirty Old Town, The Band Played Waltzing Matilda and Fairytale of New York.
But that distillation means the breadth and depth is denied.
Between their debut Red Roses For Me (1984) and Hell's Ditch in '90 – their last with MacGowan – the Pogues moved from their deeply embedded traditional sound through balladry and into a more straight ahead rock approach.
But along the way they sprung great songs beyond those familiar few . . . and that catalogue can be explored across their five MacGowan-era albums in this set.
Although Christy Moore once said despairingly something along the lines of, "Just what the world needs, another band of drunken Irishmen" there was no doubt there was as much poetry and wordsmithing as piss and wind on their albums.

The evidence is all here, and it is cheap.
This CD collection in replica sleeves is just $15 at JB Hi-Fi stores here.