Graham Reid | | 3 min read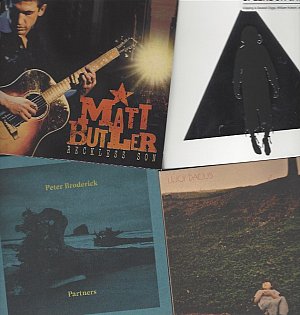 With so many CDs commanding and demanding attention Elsewhere will run this occasional column which scoops up releases by international artists, in much the same way as our SHORT CUTS column picks up New Zealand artists.
Comments will be brief.
Matt Butler: Reckless Son (mattbutlerofficial.com)
Music as personal therapy can be treacherous territory: Oversharing comes off as uncomfortably indulgent, agonies poured into lyrics sometimes don't stand either the test of time or engender the necessary empathy . . . and no matter how serious the self-laceration it still requires good songs to carry it. American singer-songwriter Matt Butler has been down the hard roads of alcoholism, prison, lying to himself and family . . . On this debut he probes all aspects of his former life and marries his snapshots, short stories and self-analysis to archetypal but effective country-rock with excellent assistance from his fellow players (steel guitar, banjo, strings). Apparently he pulled back from delivering these as Springsteen balls-out rock (wise decision) and the more restrained arrangements allow songs like When the Sun Goes Down to feel intensely personal yet universal as he sings of a man in the grip of addiction prepared to reject family just to get by. Good Friday is a hard one to hear, a place where religion, redemption, rejection, menthol cigarettes'n'booze, regret and enlightened self-interest jostle for space within the singer's head.
That Butler – who claims a place between Peter Case and Jason Isbell – sustains his story across these 12 songs is an achievement in itself, that they are so good seems more than we could have expected.
The final track is Can't Keep Looking Back which raises the question, where to now for Matt Butler, now that this has been dealt with so effectively?
Good Friday, by Matt Butler
Lucy Dacus: No Burden (Matador)
Shortly after this singer-songwriter from Virginia released her dryly feminist, VU-referencing debut single I Don't Wanna Be Funny Anymore (which opens this excellent album), record labels came hunting for her. Easy to hear why, Funny grips you immediately with its acerbic observation and gritty, forward-momentum guitars. Her emotionally flattened vocals work a treat right across this economic, sometimes dense indie-rock debut album. It seems full of personal observations from an uncomfortable outsider just wanting to fit in, somewhere/anywhere. "I've got plenty of affection I'd be glad to show you sometime" she sings on the quieter Green Eyes Red Face).
But of course life is a burden, although on songs like the more folksy Dream State she sings hesitantly from within her confusion, "You catch me when I'm falling, sometimes I wish you wouldn't, I can't tell if I'm learning".
Although she invited comparisons with Neko Case we can be assured 21-year old Lucy Dacus is very much her own woman. Quite who that woman is remains the central question in many of these songs. She's on her way to somewhere and the journey should be interesting. Worth getting aboard right now with this one.
Direct Address, by Lucy Dacus
Clipping: Splendor and Misery (Sub Pop)
You pays yer money and you takes yer chance. Here an innovative rap crew out of LA offer a soundbite-cum-concept album where hip-hop meets prog-rock conceptualism in a weird and sometimes incomprehensible space opera. What we can say is rapper Daveed Diggs has one of the fastest mouths in the game (the high-speed Breach which seems to manage about 200 words in fewer than a minute). You need to listen to Breach at least a couple of times because it does start the narrative and All Black which follows fattens it out (through sonic effects) with someone taking over the space craft and heading off into "all black everything".
Despite the sometimes commanding raps, the references to cotton-field hollers, funk, space soundtracks and noises in the bowels of the Nostromo, and the idea of a hip-hop space-concept, very little here – other than the sound effects – pulls you in.
Maybe a better idea than an album. Wait for the movie?
Wake Up, by Clipping
Peter Broderick: Partners (Erased Tapes/Southbound)
Inspired as much by the late John Cage's Zen practices and philosophy as much as by his music (notably Cage's composition In a Landscape), here pianist/composer and poet Peter Broderick from Portland offers a sense of quiet thoughtfulness, his words on the opening title track given audio echo in the production, some ambient-like piano pieces and the chance composition Under the Bridge where he assigned numbers to notes then rolled the dice to see what he should play. (Maybe he'd read The Dice Man by Luke Rhinehart?) On most pieces (In a Landscape, Under the Bridge, Conspiraling with a wordless vocal part) he records on a piano given a long delay so the suspended notes wash into each other. The final piece Sometimes is a song written by a friend, and it's really pretty.
So, not without interest but – despite the interesting ethics which propel it -- much of this is a familiar road travelled.
Under the Bridge, by Peter Broderick