Graham Reid | | 1 min read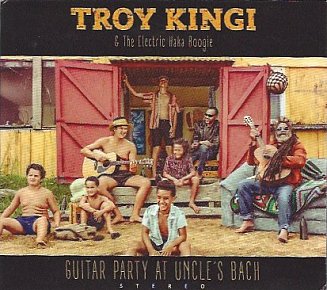 Despite the underselling expectations of this unpromising title, this isn't some beers-for-da-boys acoustic summer-reggae vibe at the beach . . .
Thank God, because we are already ears-deep in Maori/dreadlock Pakeha good-groove bbq-reggae.
Okay, Troy and band from Northland default a bit to that, but here Kingi – who appeared in the Mt Zion film – pushes the parameters of groove into soul-funk, low-range psyche soul, some grit-guitar rock, serious messages within the songs (fortunately not that you notice immediately), references to his parents' Jimi albums and whanau . . .
And dammit if they aren't metal-aware (Picking Up Speed), into a stupidly good Seventies soul groove (Can't Stop Feeling Strange) and much more. And the man does bbq hard-rock/distorted blues politics (Oil Spill) alongside low grooves, acoustic thoughtfulness (Moko) and more.
Silly to say this, but this thirtysomething musician – a descendant of Te Arawa, Nga Puhi, Te Whanau-a-Apanui and his parents' excellent record collection – has ambitiously released a double album.
And it is a cleverly packaged Tahi and Rua double set debut.
Bloody terrific, full of familiar fun (reinvented for you) and just a whole history of Kiwi/Aotearoa/pop-rock/counter-culture music dialled up for you . . . and it was recorded in just seven days in Christchurch.
Franky I want to be at Uncle's bach for this party.
And if a song palls it hardly matters because – aside from the eight minute Just a Phase right at the end – it's over by the time you back from the beer fridge and a new mood is starting.
Troy Kingi is ridiculously talented.
Meanwhile . . . sauce and mustard on mine. "Hey, you drinkin' my beer, pal?"
Loving this recognisable but enjoyable diversity.