Graham Reid | | 1 min read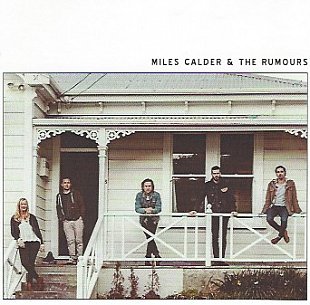 Singer-songwriter Miles Calder and his fellow travellers down these alt.country byways (where "the creek's gonna rise") have considerable prior form in advance of this debut album.
Their Crossing Over EP was nominated for the 2014 Taite Music award and in the NZ Music Awards' country category. Calder has had favourable shortlist mentions in international songwriting competitions, and they've supported Shakey Graves, M Ward and Fly My Pretties.
The territory of what we might now call "mainstream alt.country" is where he/they mine a rich but somehow rapidly depleting vein . . . and heavy-hitters are on board here (cameos by stellar players from Trinity Roots, Black Seeds).
Oh, and it is mixed by a Grammy winner engineer who has done the deed for Josh Ritter, QOTSA, Sheryl Crowe et al.
It all comes down to the songs in the end however, and although Calder has an archetypal, strong vocal delivery and some of these rarely breach new territory in the genre (the excellent Sad Songs could not reference more iconic country symbols if it tried) it's fair to acknowledge they can grab your collar with songs like the dynamically compelling and emotional sea changes of songs like The Last Time Round.
There's no denying Calder – even on the cliches – has a way-with-words and how to construct a pop-length song so he leans straight into turf where he can stand alongside Austin's finest.
He and the band (which includes the impressive singer Kirsten Moodie) just need more desperation of the Joe Ely kind on songs like You'll See Me, and the ballad Cold Wind which really gets away on them (which might have been as compelling as classic Bob Seger).
Live this no doubt shapes up quite exceptional, but on record too much here hits the mid-ground of presentation and delivery. It becomes a dogged haul past the fine To The Sea midpoint and Calder delivers on such a similar frequency, while the band hitch in behind, that far too much of this simply doesn't spring out as the songs suggest they should. In the last half to many songs plod when they should leap out.
Some very good songs taken individually, but they don't make for the compelling album they should.