Graham Reid | | 5 min read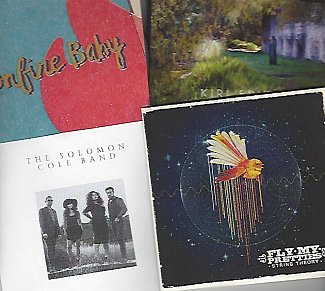 Facing down an avalanche of releases, requests for coverage, the occasional demand that we be interested in their new album (sometimes with that absurd comment "but don't write about it if you don't like it") and so on, Elsewhere will every now and again do a quick sweep like this, in the same way it does IN BRIEF about international releases.
Comments will be brief.
Kiri Eriwata: Muse and Memorabilia (kirieriwata)
That singer-songwriter Kiri Eriwata can get assistance from the likes of Jol Mulholland, Brett Adams of the Bads), Andy Lynch, Nick Gaffaney, Godfrey De Grut, Bones Hillman (of the Swingers) and many other local luminaries should come as no surprise. Even if she didn't have great songs (and she certainly does) then her longtime work at Auckland Uni's School of Music would mean her rolladeck would be stacked with interesting phone numbers.
But names like those don't turn out for just anyone, and Eriwata has been a longtime player. She's sung backup with the likes of Bobby McFerrin, Sarah Blasko and Jamie Cullum, and done time in covers bands. She not only knows her way around a big-hearted song – like the huge Not My Lover here – but has an exceptionally powerful and passionate delivery . . . as the two openers here, Love You But and Watch Over Me attest.
These songs bristle with energy, roaring sensuality and almost desperate passion. She has songs which sound made for mainstream rock radio: Hotel or Car – which conjures up the young Chrissie Hynde (of the Pretenders) – deserves to pour out of car stereos at full volume this summer to give her throaty sexuality and Derek Solomon's guitar a furious airing.
There's some older material here: Baby Come Round was a radio-play song about six years ago and get Back Home from some time even earlier. But while the bluesy Goodbye Chicago might look to her former lives in bands it has a powerful yearn that can only come from someone with road miles behind them while embracing the Now. The final of these nine is the mysterious Mohicans – co-written with producer/engineer Neil Baldock – which is prog-rock, with the emphasis on the rock end of the definition. And she again soars over Solomon's searing guitar.
Eriwata says in a liner note this collection clears the past and readies her for what might come next. It's a helluva past to have in the present.
Recommended, especially if soulful and committed hard rock is your cup of meat.
Go here.
Hotel Or Car, by Kiri Eriwata
The Solomon Cole Band: Bruises (the solomoncoleband.com)
Astonishing! For many years, much more than a decade, Elsewhere has written about how paint-stripping singers like Janis Joplin and more recently the stunning Beth Hart must scare the bejezzus out of all those bedroom-bound sleeve sucking young women songwriters whose best line seems to be a whine about having their wee heart broke.
Well, welcome to the thunderdome of hard rock guitars (Stevie Ray!), wall-shaking intensity and the nail-hard vocals of Sophia Fa'alogo (see Bonfire Baby below also). This is adult rock for men and women who like it turned up to 11, who have their meat more on the raw side (but with subtle seasoning) and who've dragged some interestingly dark pasts into their present survival. Music by and for adults then.
Facts: The Solomon Cole Band are out of Waiheke Island (and most definitely are not old slack arse hippies or the new vineyard-habitué rich) but have their souls embedded in brittle and sometime brutal Westie rock ("Yeah, up to 11, mate") with Cole channeling Jim Morrison/Butler of Psychedelic Furs and Fa'alogo – a bit under-utilised given her astonishing firepower – pulling in Grace Slick/Janis/Merry Clayton et al.
There's also the terrific, Stones-in-72 piano-rock'n'roll boogie on Doors of Perception (it feels like it's just a kiss away, a kiss away) and their original Little Sister, the downer-thump AC/DC, . . .
Can't think of another New Zealand band who could so persuasively sing, "Take the gasoline and pour it on the Limo" on the thrilling Fighting Fires.
That's heroic . . . and the Solomon Cole band are all that . . . and more.
Jon Spencer/Akadaka/Fat Possum blues/Big Brother . . . and more.
Turn this up to eleventeen . . . and someone give that Fa'alogo gal her own album. Unleashed.
The Solomon Cole Band play Auckland's Portland House, November 19 and other dates to be announced: see their Facebook page here.
Shiver, by the Solomon Cole Band
.
Fly My Pretties: String Together (Loop)
This further instalment in the FLPretties story was recorded live in August when the 14-piece "cast" (their word) took to the road for their customary sell-out shows. Among those on the Pretties ark this time were guitarist Laughton Kora, singers Bailey Wiley, Tiki Taane and Ria Hall, and the extraordinary Miloux who can hit a rather special place between contemporary r'n'b and Nina Simone.
As a memento of the show – which traverses their familiar roots, soul and deep grooves styles – and a signpost that the same crew will be touring in January then this is a very smart artefact.
Some of it of course is, "You had to be there"" as on Wiley's lengthy soul-straining Hearts and Hall's archetypal soul ballad Watch Over me which sounds instantly so familiar and full of lyrical cliches and vocal flourishes you fear it couldn't claim to be an original, but it is. And it's also fair to say that the default position here is earnest r'n'b pop with a deep bottom end (because we like our deep bass) or the allusion to pop-reggae's lyrical and musical tropes (mainman Barnaby Weir's Watchman).
There's nothing wrong with the idea of "mainstream" and, because our centre has shifted considerably from guitar radio pop to this kind of supergroup-roots music (which is sometimes classically Fifties as on the musical setting of Weir's Soul'D), this is certainly now at the centre of the frame.
But here the familiar has that familiar failing. It rarely surprises and often – as when Hall delivers her extraordinary but crowd-seducing Forever which rapidly devolves lyrically and musically because it instantly runs out of places to go – much of this mines a vein which is pretty thin. Could Taane's This Life be any more mundane, cliched and so consciously heart-tugging while aiming for the grand statement?
A memento, calling card, artefact, moments captured . . . Call it what you will.
But . . .
And, as an album, it's a big but . . .
Still, by Fly My Pretties
Bonfire Baby, Bonfire Baby (soundcloud)
Although this is billed as an EP and so more rightly should appear under Shani O's column, at almost half an hour and seven songs long it's within a whisker of an album, and we've seen albums of this length so . . .
Titles like Gone Crazy, Dirty Shirt Blues and No Mercy might give you a bead on where this band helmed by guitarist/singer and writer Tom Irvine come from . . . but hold hard.
The opener a free flowing guitar-lead instrumental with its ears back in the early Allman Brothers Band but Irvine brings a fist-tight, barbed-wire blues sound over the top of a backdrop which doesn't have quite the matching firepower.
Elsewhere they hit a funk-soul blues-groove (Better Days which doesn't quite rise as it might until Ben Campbell's elevating sax solo), dig down into the metal end of the spectrum as those titles suggest (Gone Crazy and the tricky instrumental Dirty Skirt Blues are Eighties stadium rock from Middle America, the latter more a jam to be enjoyed live than a considered EP/album piece), guest vocalist Sophia Fa'alogo brings down mainstream pop into In The End (Irvine plays in a Fleetwood Mac tribute band and their influence is discernible here) and a little more soul-funk on No Mercy which is a highpoint.
Turn My Head gets into power pop/metal riffery, but it doesn't really stick.
With a more powerful sensurround production some of these songs would pack more power. However although might be billed as an EP Irvine and bandmates here offer the breadth of their musical palette and you can only assume that better will come.
Bonfire Baby play Auckland's Portland House November 11, Thirsty Dog November 18 and the Leigh Sawmill November 19
No Mercy, by Bonfire Baby