Graham Reid | | 1 min read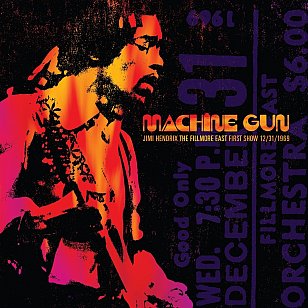 As the Sixties came to a close Jimi Hendrix famously tried to recalibrate his career by letting go of the Experience and, on New Year's Eve 1969 and the following night, play the Fillmore East with his new band of Buddy Miles (drums), and bassist Buddy Cox whom he'd known from his army days.
For his performances – the whole of their first night released here officially for the first time – this Band of Gypsys delivered a set which scrupulously avoided familiar Experience material and sometimes aimed for a more soul-funk sound.
For many, what Hendrix played was less important than the fact that he played: songs as reductive as Wild Thing could just be vehicles for his astonishing guitar work.
Regrettably for him Band of Gypsys – which fell apart a month later – was not going to the band to carry him to greater heights.
Even at this debut gig he hardly sounds inspired or even enthusiastic for the most part, and where a blues like Hear My Train A Comin' could be incendiary (there are numerous versions across bootlegs and official releases) here it sounds little more than a nine minute workout with Miles' drumming mostly a leaden thump keeping it stolid and earthbound.
The experiment of stepping aside to let Miles sing his soulful Changes certainly pointed to a possible direction which might have appealed to the black activists who had berated him for playing with white musicians in the Experience and not embracing the emerging black politics and "black is beautiful" ethic of the day.
In that regard his increasingly fiery Machine Gun was an overtly political piece about the inner city riots and Vietnam, but in this first set – as opposed to the more furious version in the second set the following night which appeared on the Band of Gypsys album of 1970 – it seems more cautious than confrontational.
Even so, on this first outing it stands out as more emphatically realised than most of the other material.
On the night Hendrix admitted the band might not actually be ready and later Cox conceded much the same.
As a document of a moment in time, this will be valuable for Hendrix fans who don't already have it from bootlegs . . . but it isn't the starter kit for anyone coming to Hendrix wondering what the fuss was about.
There is a considerable amount about Jimi Hendrix -- including rare tracks, interviews, overviews and reviews -- at Elsewhere starting here.