Graham Reid | | 2 min read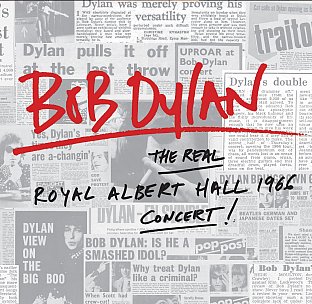 Those with neither the money, time nor inclination for the 36 disc box set of Dylan's concerts in '66 – yes, thirty six discs – are referred to this fine document as a synopsis and distillation.
The title of this previously unreleased material refers to the long-held misconception that it was at the RAHall where someone yelled "Judas" at him (it happened at the Manchester Free Trade Hall), but what is here is electric in its own way . . . even the first disc which is just Dylan solo commanding that huge crowd with his oblique, mysterious and poetic lyrics.
There is barely a whisper from the crowd between songs and whatever applause there was when he played his most familiar pop-like folks songs like It's All Over Now Baby Blue and Mr Tambourine Man started is barely audible.
Solo Dylan was such a compelling musician and lyricist, not to mention a charismatic figure, that people were intently focused on that small figure in the spotlight.
By this concert in May '66, he and his band for the second half of the shows – essentially The Band with Mickey Jones on drums, not Levon Helm – had bedded in their set lists and been through the fires of shouted abuse from furious folkies.
So the sullen and bitter biting back which had sometimes flared up from the stage seems more muted and the audience more appreciative by this time.
At least during the crisp and clearly enunciated acoustic set where the power of the melodies are as strong as those surreal lyrics.
When joined by the backing group however . . .
With the wisdom of hindsight and not a little smugness we have long been able to dismiss those hardcore folkies who didn't "get" Dylan and where he was going at this time.
But what this double disc allows you to realise is just how different and confrontational his "electric" music was at the time.
Listened back-to-back with the acoustic set which pulls the listener in, this high energy rock music – where his vocals sneer, challenge, drag syllables and strain – almost seems designed to push the listener away.
It is brilliant, of course, but there's no easy transition into it. Dylan and the band don't even attempt one by opening with a strident Tell Me Momma. Then, after teasingly saying, "This is an old song, I like all my old songs . . . it used to go like that, now it goes like this. The times they are a changin' influenced this song . . ." it's into an assertively aggressive, piercing harmonica part which opens a yowling I Don't Believe You.
Yet, despite the challenges being thrown down, the audience applauds loudly and with obvious appreciation.
And so it goes through Baby Let Me Follow You Down (swirling organ by Garth Hudson). But at the end someone must bay for protest songs and Dylan comes back with, "These are all protest songs, now c'mon . . . this is not British music, it is American music" and it's into a searing Tom Thumb's Blues after which a few more audible voices of dissent in the audience can be heard.
No matter, it'snow the recently released Pillbox Hat (undeniably that American music he mentioned with Hudson throwing barrelhouse boogie-woogie piano into the barroom blues as Robbie Robertson applies serrated guitar lines onto it).
Then it is One Too Many Mornings (followed by more shouting, some evident dissent but also more appreciation) and two lengthy closers, a magnificent seven minute Ballad of a Thin Man and an equally impressive eight minute Like A Rolling Stone which ends with a long instrumental coda and sounding full of the same inner rage which initially fuelled it.
And the crowd explodes with applause.
And there is the trajectory of Dylan and the band, and the journey they were taking – sometimes dragging – their audience on.
From the solo She Belongs to the maelstrom of a furious Like a Rolling Stone.
Shall we take a trip?
There is a considerable amount about Bob Dylan at Elsewhere starting here
And this is what a 36 CD box set of live in '66 Bob Dylan looks like . . .