Graham Reid | | 2 min read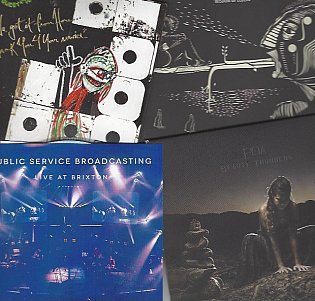 With so many CDs commanding and demanding attention Elsewhere will run this occasional column which scoops up releases by international artists, in much the same way as our SHORT CUTS column picks up New Zealand artists.
Comments will be brief.
A Tribe Called Quest: We Got It From Here . . . Thank You For Your Service (Epic)
Has it been 18 years since their previous album The Love Moment? But here they extend their programme of idiosyncratic, catchy, often challenging and highly literate hip-hop with socio-political prodding and plenty of knowing humour. These times of media smog, divisive American politics and racial confrontation are dealt to (We the People early up) but they marry the serious stuff with terrific beats, pumping funky bass, nods to reggae and juju guitars, and scratchy or soulful samples (Elton, Kanye, Talib and others in da house). If we'd heard this a week earlier it would have jumped into our Best of Elsewhere 2016 . . . but you know what to do. It conjures up their classic early period and is a fine tribute to their late producer, MC and founder Phife Dawg who died in March. The final track is The Donald. Excellent.
Kids, A Tribe Called Quest
Public Service Broadcasting: Live at Brixton (Test Card/Southbound)
Recorded at the venerable Brixton Academy with string and brass sections, a 13-piece choir and dancers, this show apparently won roaring acclaim as PBS went through their excellent Race for Space album expanded with other songs from their Inform-Educate-Entertain debut . . . and of course their films plus a light show and pyrotechnics.
Although PBS -- an Elsewhere favourite -- deliver a powerful concoction of electronics, samples and banging danceable rock, it is all rest which elevate them. In other words the images from old film and docos which accompany their samples from such sources. So while this double CD we've received for consideration ticks many of the right boxes you'd be better off locating the edition which comes with the DVD where it all makes much better multi-media sense. For a sample see here.
London Can Take It, Public Broadcasting Service
Shabaka and the Ancestors: Wisdom of the Elders (Brownswood/Southbound)
London-born but raised in Barbados, tenor saxophonist Shabaka Hutchings here teams up with classy South African ensemble in Johannesburg for a one-day studio session to captures the slippery originals which touch the SA jazz lineage post-bop, but which also moves into soulful fusion via Rhodes. And sometimes into spiritual territory when the moods drop right down and Hutchings and alto player Mthunzi Mvubu pulls the pace right back for reflective melodic lines which skew a little towards North African melodies. Vocalist Siyabonga Mthembu brings deep power to his few parts. Just by virtue of who is here this was always going to be a departure from mainstream American or British jazz (although the spirit of classic Coltrane is certainly invoked in places). One for jazz listeners in search of something different.
Joyous, by Shabaka and the Ancestors
Peia: Beauty Thunders (Peia Song)
Originally destined to study opera at the New England Conservatory of Music, this eerily evocative singer found her true voice when – after a period learning classical Indian singing – she started exploring world musics and her own Celtic roots and then following those songlines into Basque music and . . . elsewhere, frankly. Bird song provides the segue between the arrestingly beautiful opener Szerelem (a traditional Hungarian lament) and the more sprightly folk sound of her original title track where she almost seems to mimic their calls over trickling acoustic guitar before it bursts into life at the midpoint of its five minutes. Elsewhere she sings a Scottish reel, adds her own lyrics to a traditional Peruvian song, delievrs a crystalline unaccompanied version of and irish lament and interpolates her originals seamlessly into this world music tapestry with musicians on bagpipes, fiddle, oud, calabash and more. Not a familiar name (this is her third album) but if the sound of this sample track appeals there's plenty more – and similar but different – across this one.
Txoria Txori, by Peia