Graham Reid | | 2 min read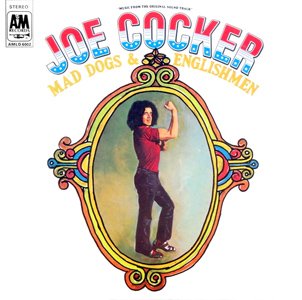 Some weeks back Elsewhere noticed a worrying pattern; certain artists – David Bowie, Leonard Cohen, Ray Columbus, Mose Allison – died shortly after we had written about them.
This thought occurred while preparing a piece about this reissue, because the band on it was put together by Leon Russell. No sooner had we started to get material together about this live album and Russell's role in it than he died.
So the piece was put aside for a while, just in case we killed off the great drummer Jim Keltner or pianist Chris Stainton.
That said, many of the protagonists here – Cocker, drummer Jim Gordon, bassist Carl Radle, saxophonist Bobby Keys and of course now Russell – are no longer with us. Other still are . . . and the sheer number of them plus the deceased give you some idea of what this album and the times were like.
Cocker was on a roll – there was a tie-in film – after some successful songs, albums and his appearance at Woodstock, but a US tour was announced and Cocker didn't have a band.
That's where Leon Russell – who had been well connected for over a decade because of his extensive session work – and got an ensemble together in little more than a week.
And quite a travelling show it proved to be: two pianists, a five-piece percussion section, trumpet and sax, guitar and bass, a 10-piece "choir" . . . and dogs and kids.
That was in the nature of the boots'n'all era (think Delaney and Bonnie) and this double album was recorded over two nights at the Fillmore East in New York at the start of the tour.
It's an odd collection in many ways, sometimes Cocker seems the least of it. Rita Coolidge sings Superstar (written by Russell and Bonnie Bramlett) which would later be a hit for the Carpenters, and because Cocker was an interpreter not a writer they performed material by the Stones (Honky Tonk Women), Bob Dylan (a peculiar Girl from the North Country with Russell sharing the vocals, Dylan "in the house tonight"), Ashford and Simpson's Let's Go Get Stoned (a hit for Cocker's hero Ray Charles), Leonard Cohen (Bird on a Wire), the Beatles (She Came in Through the Bathroom Window) and others.
It all has the feel of a jam by a band of top class players corralled by band leader Russell who is the lynchpin – and the star of the film.
At the time the album was successful because of that familiarity and the free-wheeling nature of it, but critical opinion was that it sounded undercooked and more Russell's album than Cockers. That seems a peculiar skew (perhaps driven more by the film than the album) although it is true some of the arrangements are rather obvious.
Their jam on an original called GIve Peace a Chance is surplus to requirements and one of those "guess you had to be there" five minute moments.
But Cocker turns in some fine performances, notably on the Cohen and the blues medley (I'll Drown in My Own Tears/When Something is Wrong With My Baby with a very straining Bobby Jones also on vocals/I've Been Loving You To Long). And of course his hits to that date (Bathroom Window, Feelin' Alright, The Letter and Delta Lady) are given confident readings.
This may well be an album very much of its stoned and communal-effort era, but Mad Dogs and Englishmen is somewhat better than many critics have said.
It has appeared in much expanded CD editions – one double disc edition punched out to a whopping 26 tracks – but the original double vinyl has been given the reissue treatment and that's the more musically economic way to go.
We acknowledge it here, with some trepidation and hope that the surviving players remain in good health.