Graham Reid | | <1 min read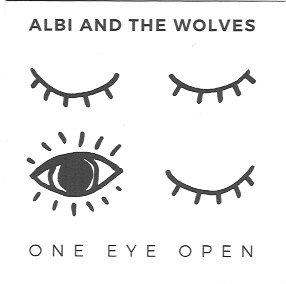 If Albi and theWolves turn up in your town in the next few months – and they probably will, see their extensive touring schedule below – then you'll spot their singer on the street.
Chris Dent aka Albi is handsomely large albino with a full white beard . . . and a white man (literally) who might be hard to ignore, especially over the sun-tanned summer months.
This guitar/electric fiddle/upright bass outfit weave their way between enjoyable folk-pop (Giants in the Sky), country (Try, the slippery Lonely Boy with guest banjo) and pop balladry (I'm Not Free), all delivered with a soulful edge.
On the Celtic-sounding Free Speech they also make socio-political points ("The internet was my mother . . . free speech was my father . . .") and there is a delicacy to Dent's vocal on the quiet ballad Home.
So across these 11 songs, they touch a lot of bases and fulfil the mandate Dent set: "To leave people moved or to make them move".
Coming to a place near you.
My guess is you'll probably want to pick up a copy of this album after the gig.